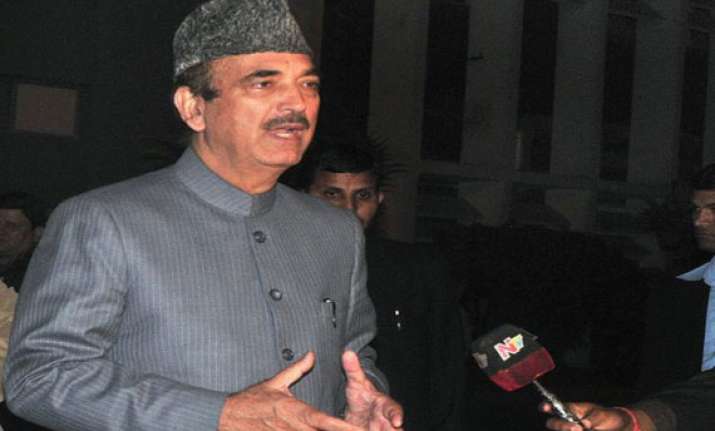 New Delhi, Nov 30: A vaccine is being developed against dengue, government announced on Friday hoping that its trials would be successful to enable containment of the deadly disease which is spreading and has claimed 216 lives so far this year.
Health Minister Ghulam Nabi Azad told the Lok Sabha that the trials of the vaccine are at an advanced stage in several countries, including in India, and hoped these would pass.
"The phase III of the trial is underway in the Philippines, Vietnam, Malaysia, Indonesia and Latin American countries.... In India the trials are taking place in places like Ludhiana, Kolkata and Delhi. If it passes, the day is not far when we will get it," he said.
Mr. Azad was responding to a call attention on the spread of dengue and the steps taken by the government in this regard, with members asking the government to take foreign help or even FDI to meet the "serious" situation.
He hoped that the success of these trials by the French company, Sanofi Pasteur, come sooner than later so that deaths taking place due to dengue can be contained.
The Minister said the spread of dengue infection has "shown an increase in recent years due to various man-made and environmental factors leading to proliferation of Aedes mosquito breeding sites, both in urban and rural areas."
Observing that the dimension of the problem could be gauged by the number of cases reported and deaths, he said up to November 15 this year, 35,066 cases, including 216 deaths, have been reported. However, the case fatality rate has remained low at 0.6 per cent.
The total number of suspected Chikungunya cases has declined, with 14,227 reported till November 15, 2012.
Noting that Rs 1,946 crore was spent on the National Vector Borne Disease Control Programme during the 11th Plan, Mr. Azad said the amount for National Rural Health Mission over the last eight years has been Rs 90,000 crore and it is expected to be three times more in the next plan.
The minister, who himself suffered from dengue in 2003, said the problem was not limited to India but had a global spread with five crore people affected worldwide.
Raising the calling attention, members of the BJP, TDP, CPI(M), Trinamool Congress and Samajwadi Party, took the government to task for "under-reporting" cases of deaths due to dengue and fudging figures.
Countering them, Mr. Azad said under-reporting of data was a state issue, as "we depend on figures given by state governments" and the Centre has no independent mechanism to collect facts and figures.
Asking members not to make it a political issue, the Minister appealed to MPs across the board to spread awareness about the deadly disease, contending that their reach was much more than even TV and radio. He said he would make available to them awareness material in regional languages.
Arjun Ram Meghwal (BJP) and Shailendra Kumar (SP) drew the government's attention to the rising death cases, saying even noted film director Yash Chopra died of the disease.
"If the government cannot kill mosquitoes, how can it kill bigger menace like corruption," said Mr. Meghwal, accusing the government of not having any plans to tackle dengue and was instead finding ways of "how to live with the deadly disease".
Trinamool Congress member Kakoli Ghosh Dastidar said, "No war has killed 216 people till mid-November which dengue has... These numbers have grown from 110 in 2010 and 169 in 2011." She said no death has occurred in TMC-ruled West Bengal, though 80 cases were reported.
This was countered by the Minister who said nine deaths due to dengue have been reported from the state.
Accusing the Centre of "neglect", Dastidar suggested creation of a multi-ministerial task force, including Health, Environment and Urban Development, for a holistic approach to check the spread of the disease.
Mr. Kumar said blood platelets needed for transfusion among the patients were simply not available in rural areas, causing hundreds of deaths there. "It is really unfortunate that there is no vaccine available," he said, demanding a separate budgetary provision to meet the challenge.
Ramchandra Dome (CPI-M) and Nama Nageshwar Rao (TDP) also accused the government of fudging death figures and not reporting dengue cases.