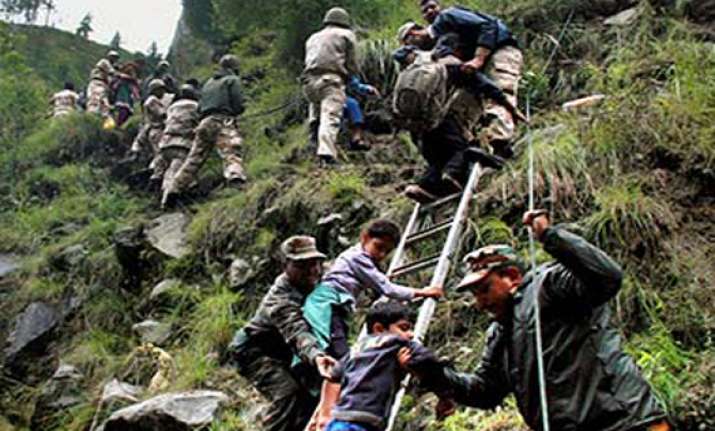 Dehradun, Jun 21:  Running from hotels to army camps to escape the landslides and flash floods, surviving the Himalayan tragedy was nothing short of a miracle for Diksha who lived on only one meal for four days.
Terming the experience as horrifying,Diksha, who is in her thirties, said her family was still not aware about her whereabouts.
"We got only one meal in four days. There were landslides....we ran from hotels to army camps. It was horrifying, my family doesn't even know were I am," she said.
For Swapan Majumdar, a resident of Mumbai the religious trip that he undertook for spiritual satisfaction gave him an experience that he will never forget.
"I came from Mumbai to visit the shrine but got stuck here in Gangotri. I have no idea how will I get home," he said.
An unidentified survivor, who lost all his family members in the calamity, was inconsolable and requested only to be taken to Dehradun.
Evacuated to Guptkashi from Kedarnath area, he said, "We were a group of 400-500 people out of which 150-200 died there itself. My wife, daughter and four other relatives were swept away. No one survived. All washed away. Please just help me get to Dehradun," he pleaded.
He said many people were still stuck in the higher reaches.
Narrating his tragic experience, he said, "For the first few days after the calamity, the helicopters were flying straight to Kedarnath and not picking up those stranded on the way. Only later the helicopters came to our rescue," he said.  Though the official figures are being pegged at close to 200, a survivor said the toll is "much more than expected".  Shraddha Tomar from UP was lucky to have survived nature's fury but is worried about the fate of other people still stuck there.
"I returned from Kedarnath...many are still stranded at Kedarnath. They have nothing to eat. Don't know when will they come," Tomar said.
While thanking god for escaping unscathed, another survivor Nirmala Devi bemoaned the fate of fellow travellers.  "We were stranded in our rooms. There was chaos everywhere. We thought all is over but due to god's grace, we have been able to come back. But we don't know whether rest of people will be able to return or not," Devi said.  Chennai resident N Meriyappan said the horror he witnessed in Kedarnath cannot be described in words.  "So many people were dead...I cannot express the horror in words. I lost all hope of surviving but by god's grace I survived, he said.