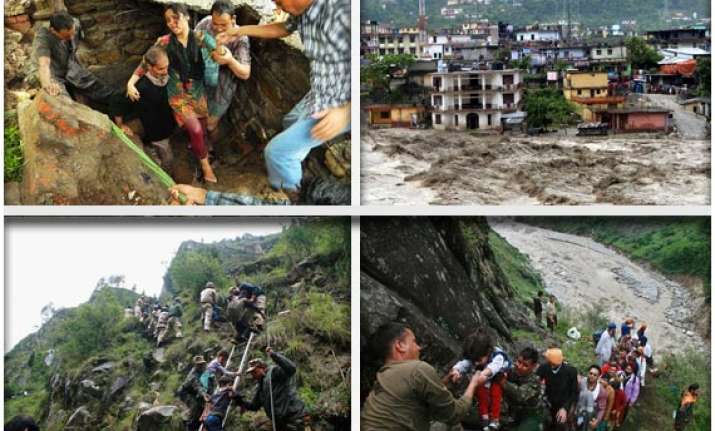 Dehradun/Rishikesh/Joshimath, Jun 19: The terrible magnitude of nature's fury in Uttarakhand unfolded today as the death toll rose to 150 with fears that it may go up substantially as large parts remained under water while hundreds of houses and buildings lay in ruins.
After an aerial survey of the affected areas, Prime Minister Manmohan Singh announced a Rs 1,000 crore aid to the state where large-scale devastation has occurred.
Skies cleared today enabling stepping up of rescue and relief operations but the efforts were hampered by the vast destruction of the roads caused by landslips and flash floods that damaged hundreds of houses, buildings, hotels and government guest houses.
Several thousand pilgrims from across the country are still stranded in the state as reports came that the Kedarnath temple, one of the four holy dhams, was intact but the temple complex and the Rambada area around it have suffered total destruction.
"Very heavy casualties are feared and I cannot give the exact number without a proper survey," said Uttarakhand Chief Minister Vijay Bahuguna who described the flood ravage as unprecedented caused by a "Himalayan tsunami".