Follow us on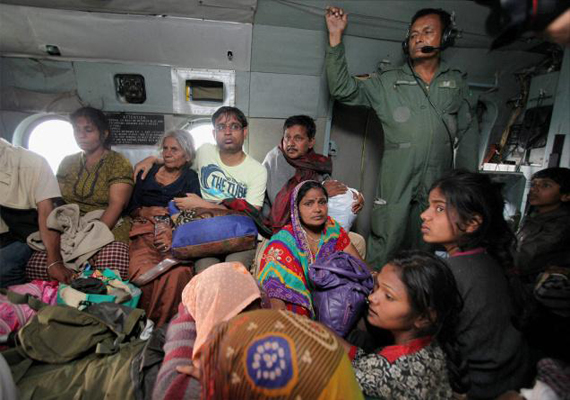 Jaipur, Jun 30: Ninety one pilgrims including women and children from Rajasthan, who were stranded in disaster-hit Uttarakhand, were today brought here safely by a special flight from Dehradun even as whereabouts of 500 more were yet to be ascertained.
So far, about 3,400 pilgrims have been brought back to the state, said Kuldeep Ranka, Principal Secretary of Calamity and Relief Department.
Today's batch of stranded people who arrived at Sanganer airport by a Jet Airways flight included 31 pilgrims from Jaipur, 30 from Roopwas in Bharatpur district, nine from Bassi and three each from Dausa, Kota and Sikar.
Jaipur's Pandit Mohanlal Sharma, who was with his wife Geeta Devi and grandson Ritesh, told reporters at airport that he left for Kedarnath on June 13, but was stuck at Badrinath following heavy rains.
"We were starvng...Without medicines...And we did not have any hope of survival...But by the grace of god we have returned," Sharma said.
"Could not see the Kedarnath temple, but my life was saved...I do not think I can again go on pilgrimage there," Sharma, who has a temple in Malviya Nagar, said.
Emotional scenes were witnessed as another family of nine members headed by Ramkrishna Saraf were reunited with their relatives at the exit gate of the airport.
Anita Devi, a handicap woman, was provided wheel chair, and one more woman was immediately given medical aid.
Rajasthan Education Minister Brij Kishore Sharma told reporters that two batches of pilgrims would be brought from Dehradun and Delhi in next two days.
Wherabouts of 500 more pilgrims were yet to be ascertained in Uttarakhand, the minister said.
Supervising the arrival of stranded pilgrims, Ranka said 72 pilgrims more returned by state buses to different parts of the state from Uttarakhand.
Altogether 136 more pilgrims were air lifted from Badrinath to Joshimath this morning, and about one hundred more would fly tomorrow, Ranka said, adding the state government was providing all assistance to the victims of floods and landslides.