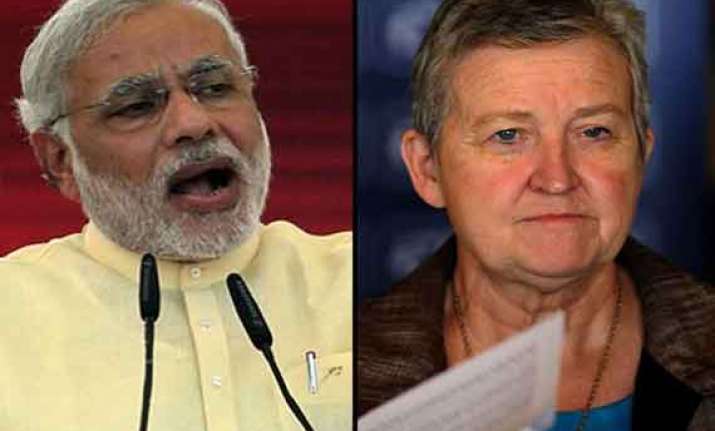 New Delhi: The US has signaled a turnaround at BJP's PM candidate Narendra Modi. after years of shunning him over the 2002 Gujarat riots.
According to the reports Nancy Powell, the US ambassador to India, will meet Narendra Modi this week in Ahmedabad.
A news agency has quoted a state department official as confirming an appointment between Modi and US Ambassador Nancy J Powell, without specifying a date.
"We can confirm the appointment (between Modi and Powell)," a State Department spokesperson told a news agency. The request to meet Modi has been made by Powell herself and the meeting is expected to take place in Ahmedabad this month.
"This is part of our concerted outreach to senior political and business leaders which began in November to highlight the US-India relationship," the spokesperson said.
The tentative dates for the meeting are February 14 or 15.
There is unlikely to be any direct conversation about the visa, diplomatic sources say. Bilateral relations would be taken up during the meeting, the US embassy said.
The US cannot offer a visa during the election campaign for fear of being accused of trying to influence Indian domestic politics. But the signal being sent is unmistakable: the US is open to doing business with Modi.
"The US embassy has been sounding us out for the past two weeks if Modi would be amenable to such a meeting," a senior BJP leader said. It is standard for foreign envoys who wish to meet regional leaders to ask for permission from the Indian foreign ministry, housed in South Block.
In 2005, the United States had, under domestic laws related to human rights, denied Mr Modi a visa saying that the Gujarat chief minister was "responsible for the (lack of) performance of state institutions" during the 2002 communal riots in his state.