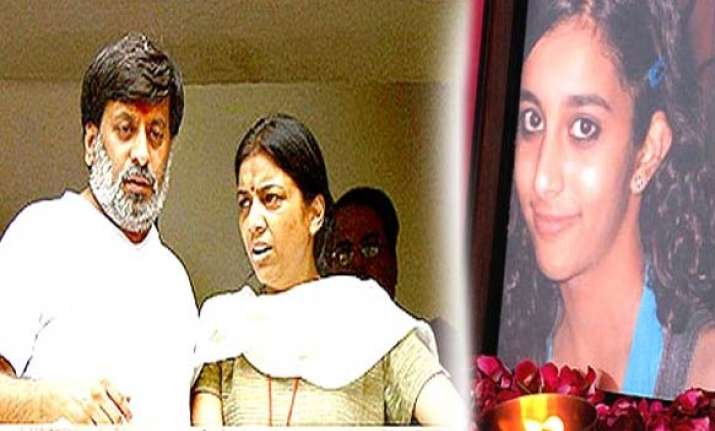 New Delhi, Feb 9: The mysterious murders of DPS Noida student Aarushi and their family servant Hemraj led to several twists and turns  over the last three years:
May 16, 2008: Aarushi Talwar-- daughter of dentist couple Rajesh and Nupur-- found dead with her throat slit in the bedroom of her flat in Noida. Domestic help Hemraj (Nepalese national) suspected of murder.
May 17: Hemraj's body found on the terrace of Talwar's house.
May 18: Police say murders done with surgical precision, insider job suspected.
May 19: Talwar's former Nepalese domestic help Vishnu Sharma named suspect.
May 21: Delhi Police joins murder probe.
May 22: Family under suspicion, honour killing angle probed, the police quiz Aarushi's close friend whom she spoke to 688 times in the 45 days preceding her murder.
May 23: Aarushi's father Rajesh Talwar arrested for the two murders.
June 1: CBI takes over the probe in the case.
June 13: Domestic help of Rajesh Talwar, Krishna, arrested by CBI.
June 20: Lie detection test of Rajesh Talwar conducted at CFSL, Delhi.
June 25: Second lie detection test conducted on Nupur Talwar. Her first lie detection test was found inconclusive.
June 26: CBI declares the case to be a "blind case".  Rajesh Talwar refused bail by the special  magistrate in Ghaziabad.
July 3: Supreme Court rejects a public interest litigation (PIL) case which  challenged the administration of narco-analysis test on the accused in the case.
July 12: Rajesh Talwar freed on bail from Dasna Jail in Ghaziabad.
Jan 5, 2010: CBI moves court to conduct narco test on Talwar couple.
Dec 29: CBI submits closure report. Clean chit to servants but points fingers at parents.
Jan 25, 2011: Rajesh Talwar attacked in the Ghaziabad court premises
Feb 9: Court takes cognizance of CBI report. Charges Aarushi's parents with murder and destruction of evidence. PTI