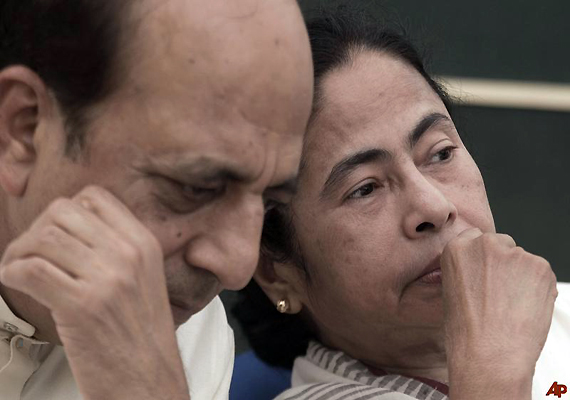 New Delhi, March 8:  Railway Minister and trinamool Congress leader Dinesh Trivedi  on Thursday  undertook a damage control exercise after his remarks that the country may head for a mid-term poll and the Union government was lame duck created a flutter in political circles.  

"This was just a forum. The forum is known as Idea Exchange. I have given my opinion as an individual, not as a minister or a Trinamool Congress member," Trivedi said.

Talking to PTI, he said, "As an individual, I have freedom of expression and to analyse the political situation." He emphasised that it was merely an idea exchange platform and not a statement on the present political situation.

"As a student of politics, I was analysing the political situation and it had nothing to do with my party or I as a part of the UPA government," he said.

When asked about his statement that there will be no big ticket reforms that will get passed in the Budget Session, he repeated that it was just an idea exchange.  

On whether he was retracting from his views, he said, "I stand by what I have said but you have to understand that it was an idea exchange programme and not my views as a minister or a TC member. It should not be taken in any other context."

Leaders close to Trinamool Congress chief Mamata Banerjee, however, expressed annoyance at Trivedi's statement ahead of the Budget Session.

The TC Parliamentary Party will tomorrow evening in Kolkata during which the issue is likely to be discussed. When asked whether Trivedi will be present there, sources said all party MPs are expected to attend the meet to be chaired by Banerjee.

In an interview to Indian Express, Trivedi said, "If there is an anti-Congress wave in the country and the Samajwadi Party and the BJP want early polls, then Congress should understand.

"Trinamool may also be happy to have a mid-term poll now rather than two years later. If I am in a situation of a lame duck, then I think it may be a good idea to call it a day".

The Railway Minister said that not much could be expected from the Budget session of Parliament.

Trivedi said, there is a gathering political momentum for general elections that could come "sooner rather than later".

He said, the Samajwadi Party and even the Trinamool Congress would want to see a mid-term poll so that they "can increase their tally" in Parliament.

"Why only TMC? I feel after yesterday's results... If I was Samajwadi Party, I would be very happy to have a general election tomorrow so I can increase my tally because I have the momentum. The Trinamool Congress may also be happy to have a mid-term poll now rather than two years later. If there is a perception that there is an anti-Congress feeling (in the country) then, obviously, even BJP would want an election now. So if everybody wants an election, there will be election," he said.

Given the restiveness of the regional allies and their gains, Trivedi said, not much could be expected in the budget session of Parliament.

"Today we are almost in a position of a status quo, nothing big ticket will get sanctioned (in Parliament). It will be very difficult even to run this Parliament because everybody is aspiring and everybody feels we are in a critical situation.

There is not going to be (any) reform," Trivedi said.

Trivedi underlined that it was crucial for the Congress to get the "pulse of the people." "If I am in a situation and a position of a lame duck then I think it may be a good idea to call it a day," he said when asked about the UPA government finding itself in a "policy paralysis".

Congress President Sonia Gandhi had on Wednesday sought to downplay the differences with allies.

Asked about the possibility of allies like the Trinamool Congress becoming more demanding in the wake of the electoral, she had told reporters: "It is my view and also of the Prime Minister that if we regularly keep in touch and talk with our coalition partners, I hope that all the issues beneficial to the people and the country, they will understand and they will support."

Sonia Gandhi also held detailed discussions with party in charge of West Bengal Shakeel Ahmed on the party's equations with the Trinamool Congress.