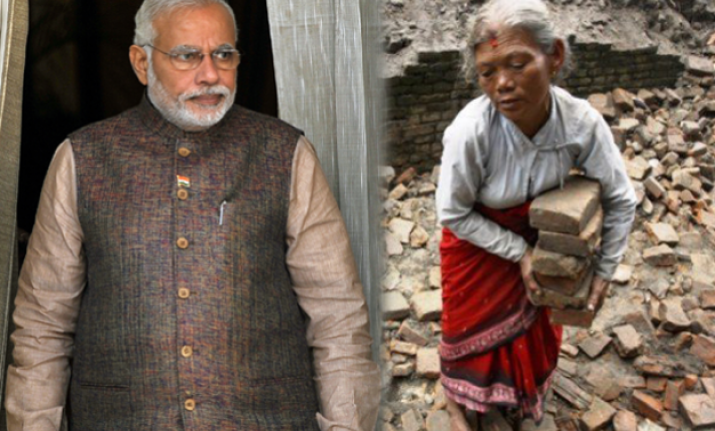 Rescuers and international aid workers today struggled to reach relief in remote areas of Nepal which is still battling the aftermath of Saturday's killer earthquake whose death toll has been put at around 10,000 by Prime Minister Sushil Koirala.
Koirala told agencies that the death toll could reach 10,000 because information from the affected remote villages is yet to come.
A part of India slid about one foot to 10 feet northwards and underneath Nepal in a matter of seconds during the devastating 7.9-magnitude earthquake that hit the neighbouring country on Saturday, a US scientist has said.
"Saturday's slip took place over an area about 1,000 to 2,000 square miles over a zone spanning the cities of Kathmandu and Pokhara in one direction, and almost the entire Himalaya mountain width in the other," said Colin Stark, Lamont associate research professor at the Lamont-Doherty Earth Observatory, Columbia University.
India shares Afghanistan's "pain over persisting terrorism and extremist violence", Prime Minister Narendra Modi said on Tuesday.
The terrorist violence has destroyed lives and derailed progress, Modi said, adding India and Afghanistan have a "timeless link of human hearts".
US today praised India's leadership role in helping earthquake-hit Nepal and persons of different nationalities stranded in war-ravaged Yemen.
"India has demonstrated its global leadership in recent weeks, first in Yemen and now in Nepal. We are grateful; we are impressed; we are inspired.
At least 14 people lost their lives and scores were injured in thunderstorm and heavy rains that hit several parts of Uttar Pradesh today.
Four persons were killed in Pratapgarh district, three in Rae Bareli, two deaths each were reported in Lucknow, Ballia and Amethi, and one died in Azamgarh, a government spokesman said here. Storm, lightning and rains led to most of the deaths.