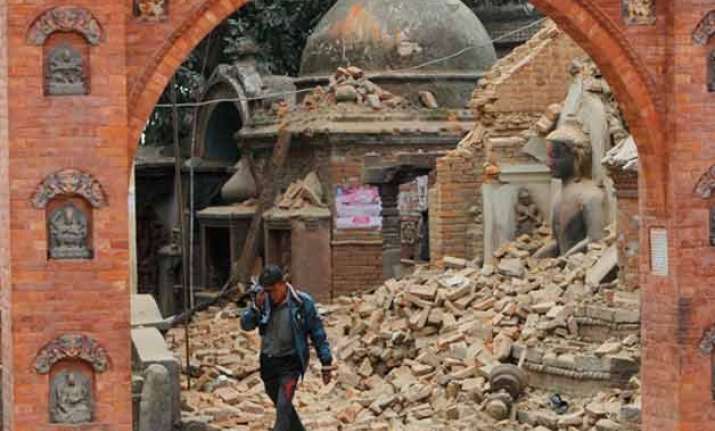 Addressing the nation on Tuesday evening, three days after the deadly earthquake that has injured over 7,500 others, Koirala called for unity among the Nepalese people during this national crisis.
For about 70 climbers on Mount Everest base camp, hit by the devastating earthquake in Nepal, Captain Ritesh Goel of the Indian Army was a life saver. 
Goel, who has also served in the Siachen, was part of the 30-member strong Indian Army expedition team to Mount Everest. 
The 28-year-old not only provided first-aid and stabilised nearly 70 climbers, some with broken legs and hands, he also manage 8 casualties with serious head injuries for about 14-hours before they were rescued via helicopters. 
The UN today released $ 15 million as emergency aid for quake-hit Nepal to "scale up" the rescue operations in the country which is facing an acute shortage of food, water, electricity and medicines. 
UN agencies are coordinating international efforts and are working with partners in Nepal, including the government, to ensure the aid reaches to the affected people.
The Indian Air Force today rescued 16 Pune-based mountaineers, including an 11-year-old girl, who spent two days in a make-shift tent after being stuck on Mount Everest in Nepal.
The trekking group from Pune who was on its maiden expedition from Lukla to Mount Everest base camp, a 12-day programme, was trapped mid-way en route the Everest.
342 Indians have been evacuated by IAF, bringing cumulative number to 2,865: Defence Secy RK Mathur
Insulin worth Rs one crore will be sent for persons suffering from diabetes in earthquake-hit Nepal, Union Minister Jitendra Singh said here today.
"A consignment of insulin worth Rs one crore consisting of 75,000 vials for persons suffering from diabetes in the earthquake hit Nepal is being sent," he said.  
"A small country like Nepal has a diabetic population of over seven lakh people and the consignment that is being sent consists long-acting, short-acting and mixed forms of insulins," he added.
A part of India slid about one foot to 10 feet northwards and underneath Nepal in a matter of seconds during the devastating 7.9-magnitude earthquake that hit the neighbouring country on Saturday, a US scientist has said.
"Saturday's slip took place over an area about 1,000 to 2,000 square miles over a zone spanning the cities of Kathmandu and Pokhara in one direction, and almost the entire Himalaya mountain width in the other," said Colin Stark, Lamont associate research professor at the Lamont-Doherty Earth Observatory, Columbia University.
United Nations Fund for Population Activities (UNFPA)'s initial estimates indicates some 50,000 pregnant women and girls could be among the survivors.
Pregnant women affected by the disaster require maternal health services, including antenatal care, safe delivery services, post-partum care, and, for those who experience complications, emergency obstetric services, it said. 
Many women lose access to essential reproductive health services and give birth in appalling conditions without access to safe delivery services and lifesaving care.
Rescuers and international aid workers today struggled to reach relief in remote areas of Nepal which is still battling the aftermath of Saturday's killer earthquake whose death toll has been put at around 10,000 by Prime Minister Sushil Koirala.
Koirala told agencies that the death toll could reach 10,000 because information from the affected remote villages is yet to come.
He has admitted that the rescue, relief and search operations have not been effective. He has urged the political parties to work together in this national crisis.
India evacuates 170 foreign nationals from Nepal
India has assisted in the evacuation of 170 nationals from 15 countries, including 71 from Spain, from quake-hit Nepal.
Ministry of external affairs spokesperson Vikas Swarup tweeted: "Friends in need. India assisted in evacuation from Nepal of 170 nationals from 15 countries via commercial & IAF aircraft."
Besides Spain, India has pulled out 33 Polish nationals, 20 Czechs, 10 US nationals, eight Germans, five Ukrainians and French each and four Brazilians and Tanzanians each among others.
The earthquake in Nepal has impacted eight million people in 39 districts, of which over two million live in 11 most severely affected districts, the UN said on Tuesday.
The immediate priority of the victims include food, water, shelter and medication, the UN said, adding 1.4 million people were in urgent need of food assistance. 
Three quarters of the affected population was outside of Kathmandu, among the worst hit areas.- IANS
People injured in the deadly earthquake in Nepal are now so traumatised with fear that they prefer receiving treatment in tents rather than inside hospitals after several buildings collapsed burying hundreds of victims.
Kedar Prasad Srivastav, 75, is to be operated upon for an abdomen surgery, but he prefers to get treated in the open ground outside the Kathmandu Medical College (KMC) for fear of tremors and aftershocks after Saturday's quake that devastated the Himalayan nation, killing over 5,000 people with more than 11,000 others injured.
Saturday's earthquake in Nepal that has left thousands dead and affected millions, shifted the earth beneath Kathmandu by up to several metres south. The quake that was measured 7.9 on Richter scale, however, has not affected the height of Mount Everest.
According to James Jackson, University of Cambridge tectonics expert, the ground beneath the capital Kathmandu may have moved about three metres (10 feet) southward. 
India today pressed six more teams of NDRF personnel into its relief and rescue operations in Nepal as the Himalayan country struggles to cope in the grim aftermath of the deadly earthquake which has left thousands dead and affected millions.
With the induction of the new teams on the fourth day of the disaster, the total number of National Disaster Response Force (NDRF) teams in Nepal has gone up to 16 with 10 already engaged in rescue operations there for the last few days. Each NDRF team has about 45 personnel.
US today praised India's leadership role in helping earthquake-hit Nepal and persons of different nationalities stranded in war-ravaged Yemen.
"India has demonstrated its global leadership in recent weeks, first in Yemen and now in Nepal. We are grateful; we are impressed; we are inspired.
India was the first to respond to the Nepal crisis and it immediately sent relief material.
Nepal today thanked India for extending a "blank cheque" and taking initiative in launching relief operations in the aftermath of Saturday's killer earthquake, which was followed suit by other countries.  
"India took the initiative in relief operations, which other countries followed. We are thankful to the government of India that it was kind enough to extend a 'blank cheque' after the shattering earthquake. It has done tremendous work to provide help," he told reporters here.
According to Spokesperson of Defence Ministry --Nepal Earthquake An AN-32 aircraft with 2 tons of food material lands at Pokhara airfield. 

Nepal quake death toll reaches 5,057, around 11,000 injured

Today morning, a Nepal police official said that at least 4,352 bodies have so far been recovered.

Home Ministry spokesman Laxmi Prasad Dhakal said that 7,953 people are now known to have been injured in the quake.

Deputy Inspector General of Police Komal Singh Bam said that 1,176 bodies have been recovered in Sindhupalchuk district alone.

18 people were also killed in a quake-triggered avalanche that swept the Mount Everest base camp.

There have been more than 100 aftershocks since Saturday's magnitude 7.9 temblor. The largest of these was magnitude 6.7 on Sunday.

Baburam Marasini, director of Nepal's Epidemiology and Disease Control Division, said that people should take precautions such as eating with a clean spoon and not with their hands as most people here normally do.