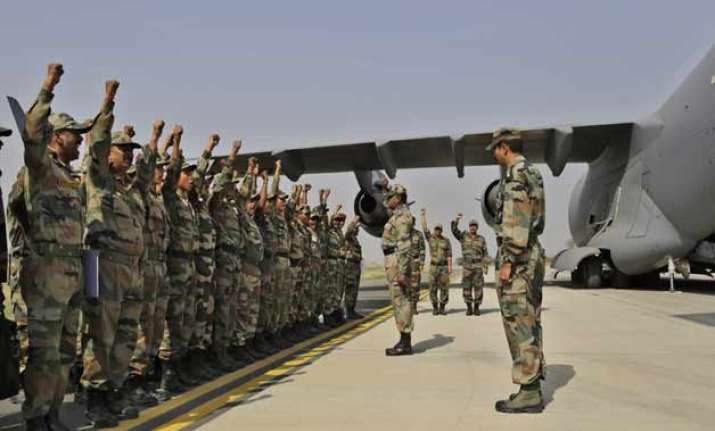 New Delhi: Nepal today thanked India for extending a "blank cheque" and taking initiative in launching relief operations in the aftermath of Saturday's killer earthquake, which was followed suit by other countries.  
Ambassador-designate of Nepal Deep Kumar Upadhyay also expressed concerns on "congestion on Kathmandu airport" that was hampering taking aid to the victims.  
"India took the initiative in relief operations, which other countries followed. We are thankful to the government of India that it was kind enough to extend a 'blank cheque' after the shattering earthquake. It has done tremendous work to provide help," he told reporters here.
"The Indian government has also accepted our request for special trains to border areas so that our people who want to return to their homes can go there. The service will be increased as per demand," he added.
Upadhyay said "I know we are two (countries), but we are receiving support like we are one. There is no problem of coordination between us. The aid will have a positive impact on us. It's a matter of human emotions." 
Expressing concern about the obstacles in the relief work going on in the Himalayan nation round the clock, he said one major issue was congestion at Kathmandu airport due to which flying down support materials and resuming passenger flights were getting affected.
"The Kathmandu airport has a parking capacity of just seven to eight planes. At present 30 helicopters are already stationed there, including 20 from India and a few from the US. So there is congestion and we are unable to welcome rescue teams and relief material," Upadhyay said. And in this regard, the most important requirement was that the aircraft come, off load relief material and return immediately, he said.
"This will help resume normal commercial passenger flights. It will help reduce panic and boost the morale of the people as they will understand that the situation was returning to normal," he added.
Upadhyay said providing food and shelter was a priority and the focus will shift toward them as "hopefully all kind of primary rescue work will be over by today".
Upadhyay said Nepal will now move towards need based, targeted relief work, to ensure that aid material reach the affected districts, and do not just get wasted in Kathmandu.  
"There is no dearth of relief material. It is our responsibility now to take it to the interior areas in the mountains, which have been the worst hit. We will airlift and road lift the material to those places," he said.  "Many friendly countries are also trying to help, but we are holding them back due to congestion on our airport," he added.
Upadhyay expressed confidence that electricity supply will be restored to an extent as Power Grid officials from India and Nepal are continuously working towards it.  "Restoration of power supply will also lead to restoration of communication and lift the spirits of the distressed people there," he added.
The Nepal Ambassador said that many NGOs based in India were trying to lend a helping hand, but advised a note of caution for the sake of better coordination in the relief work.
"The NGOs have shown much concern. We are requesting them to come in a proper way. We will ask what kind of help they want to provide and then recommend and guide them. This way they will be able to help more," he added.  
Upadhyay said the Nepal Consulate in Kolkata is also coordinating with relief agencies and NGOs for the purpose.  The Nepal Embassy has set up a toll free helpline 18002700032 for people affected by the earthquake. It has also created a Facebook page 'Nepal Embassy, New Delhi' for the purpose.
The embassy has also set up its own relief fund welcoming monetary donations from individuals who want to provide help to the people of Nepal.