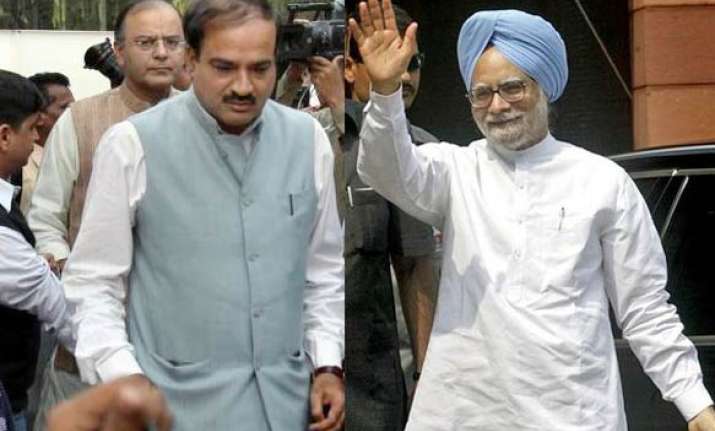 New Delhi, Feb 25: BJP today dubbed the Railway Budget presented by Railway Minister Mamata Banerjee as an "election manifesto" for West Bengal Assembly polls which has "ignored" the rest of the country.
"Mamata Banerjee's rail budget is like an election manifesto. The entire focus is on West Bengal, and the rest of India has been totally neglected," BJP General Secretary Ananth Kumar told reporters here.
Kumar said the railway budget should be scientifically formulated and should give credence to the regional balance and development of infratructure all over the country.
CPI National Secretary D Raja said despite certain populist announcements, the Budget does not have anything spectacular.
"It seems to be more ambitious than reality. Nobody is happy with the Budget. She has not announced any provisions for ongoing projects," Raja said
The Congress hailed the Railway Budget saying it shows "concern and sensitivity" towards the common man and expressed happiness over no hike in fare.
"The most significant aspect of the budget is that she (Mamata Banerjee) has not increased any fair. She has shown her great concern and sensitivity towards the needs for the common man to which the UPA government is totally committed," party spokesperson Manish Tewari told reporters.
He also congratulated the Railway Minister for her "frank" admission of the challenges before the ministry due to implementation of 12th Pay Commission recommendations and the assertion that Railways have come out of its difficulties and is on development path.
Asked how the no hike in fares could be justified when it leads to over-all losses, Tewari said, "Railways are the main medium of transportation for the common man it is not proper to expect only profit earnings by it".
Prime Minister Manmohan Singh today said no increase in freight rates and passenger fares in the Railway Budget would reduce inflation.
"It is a common man's budget without increase in freight and passenger fares, thereby it will help to weaken cost push element of inflation," Singh told reporters soon after Railway Minister Mamata Banerjee presented her third budget in the Lok Sabha.
At the same time, Banerjee has taken care to increase investment in critical areas of infrastructure which would supplement growth momentum of the economy, he said.
"The Railway Minister has done a commendable job", Singh added. PTI