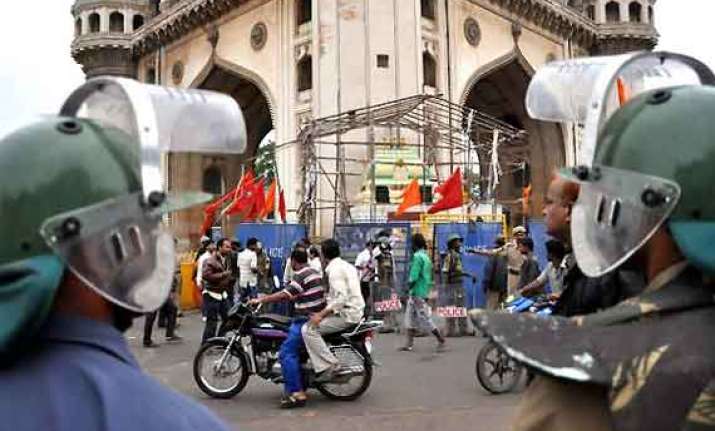 Hyderabad, Nov 11: Tension prevailed in the old city of Hyderabad Sunday following the arrest of eight legislators of the Majlis-e-Ittehadul Muslimeen (MIM) when they were protesting against the expansion of a temple abutting historic Charminar.
Incidents of stone-pelting and protests were reported from different parts of the communally sensitive old city as a curfew-like situation prevailed in the markets around the historic monument and in the interior areas.
MIM leader Akbaruddin Owaisi and four other members of the Andhra Pradesh assembly were taken into custody while they gathered to ask police to stop the expansion of Bhagylaxmi Temple.
The MIM leaders alleged that despite the Andhra Pradesh High Court ordering a status quo, a canopy over the structure was put up in the early hours of Sunday but the police remained a mute spectator.
Akbaruddin had a heated argument with police officials and lodged his protest over the policemen pushing him and other legislators.
The police arrested the MIM leaders and their followers and shifted them to Bolarum police station.
Later, two more MLAs of the party, a member of the legislative council and several corporators were also arrested.
Following the arrests, violent protests were reported from Moghalpura, Talabkatta and other areas. Police fired teargas shells and baton charged a mob protesting the arrests at Talabkatta.
Police Commissioner Anurag Sharma appealed to the people to maintain peace and not believe in rumours. The police chief said they would implement the court orders.
The usually busy roads around the 400-year-old Charminar monument even on Sundays were deserted with police sealing off all the routes.
Barricades and barbed fencing were erected leading to Charminar in view of a planned rally by some organisations to ready the temple by Diwali.
Police intensified patrolling in the communally sensitive areas in the old city which witnessed communal clashes a few days ago.
Prohibitory orders banning the assembly of five or more people remained in force in areas falling under five police station limits.
A large number of policemen including the paramilitary Central Reserve Police Force (CRPF) and Rapid Action Force (RAF) were deployed.
A curfew-like situation prevailed. Policemen checked vehicles and frisked people.
The Bhagyalaxmi Temple Protection Committee had Saturday announced plans to decorate the temple and perform a puja Sunday. The committee warned that if it was prevented from doing so, a rally would be taken out.
The committee members, including former BJP legislator Baddam Bal Reddy, claimed that the temple was as old as Charminar and accused police of acting at the behest of MIM.
The BJP took out a rally outside the old city Saturday to protest what it called attempts by MIM to hurt religious sentiments of Hindus.