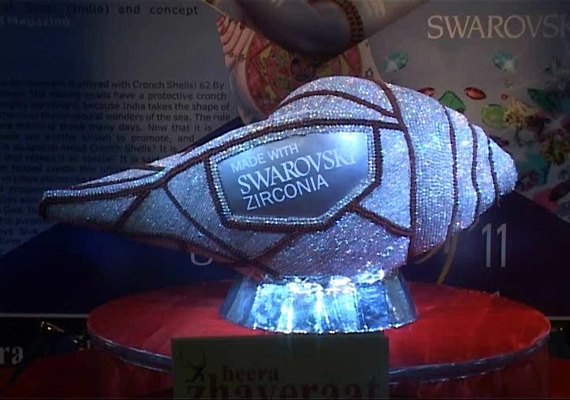 Surat, Dec 16: The Surat Chamber of Commerce has put up  a Rs 2.5 crore worth huge diamond-studded conchshell on exhibition here.
 
The exhibition named Sparkle showcases exquisite collections of diamonds, but the huge conchshell has stolen the show.
 
The conchshell is 5.5 feet tall and nearly 3 feet wide. Made of acrylic and silver, the conchshell has  nearly 28,000 cubic zirconium diamonds, with each diamond costing Rs 8,000.
 
Strings of Panchmukhi rudraksha beads that have been put on the conchshell give it a spiritual look.
 
The cubic zirconium diamonds have been sponsored by a Swiss company.
 
Says Rajesh Bajaj, the conchshell designer: "This conchshell will be auctioned after the four-day exhibition and the amount collected will be donated to charity."
 
The conchshell is particularly attracting female visitors who are spellbound on watching this religious symbol.