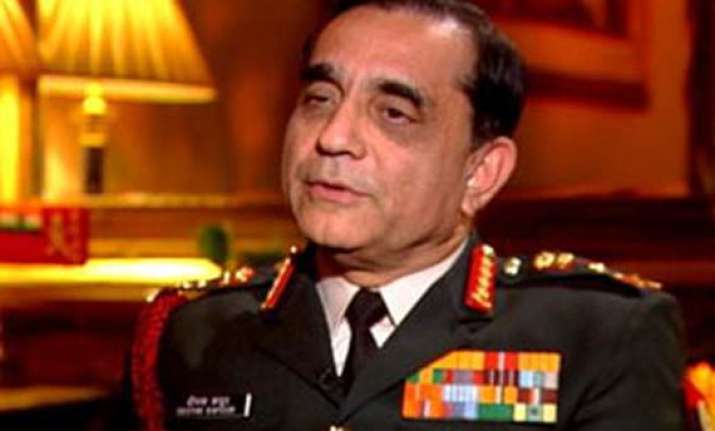 Guwahati, Dec 3: Lt.Gen Avadesh Prakash, the senior-most Army officer to be court-martialled, was today dismissed from service after he was found guilty in the Sukna land scam. 

Prakash, who retired as Military Secretary in January, 2010, was held guilty of charges of misusing his position and intent to defraud by giving no objection certification to a private realtor for developing an educational institution near Sukna military station in West Bengal's Siliguri district in 2008.

Though he is not a serving officer, as per the Army Act, the dismissal means he will not get any benefits like pension or be able to retain the rank and status of Lt General. He also automatically stands stripped off all his medals. 

61-year-old Prakash is the third Lt.Gen-rank officer to be court-martialled and the second to be sacked. 

Lt Gen S K Sahni, former Director General Supplies and Transport, was earlier this year cashiered from service for his role in the ration scam and Lt Gen P K Rath, 33 Corps Commander in Siliguri, escaped dismissal but was punished with loss of seniority and pension.

While Prakash and Sahni faced the ignominy after their retirement from service, Rath is still serving, attached to the East Command Headquarters in Kolkata. 

Today's order by the military court will be sent for confirmation to the Eastern Army Commander, the convening authority of the General Court Martial in this case. 

Prakash was held guilty on three counts of misusing his position under the Army Act section 45 (conduct unbecoming of his position as an officer) and section 52 (intent to defraud) by the General Court Martial at the 51 sub area of the army station at Narengi.

However, the court gave Lt Gen Prakash, the senior-most Army officer to face court martial, benefit of doubt on the fourth count of committing a civil offence.

The court martial was ordered after Prakash was indicted by an Army Court of Inquiry early last year for his role in the illegal transfer of 71 acres of land adjacent to the Sukna military station to the private developer.

The scam dates back to 2008 when the move to transfer the land out in the open, leading to the Army initiating disciplinary proceedings against senior Army officials, including Prakash and Rath.

During the proceedings, the Army probe held that the developer had falsely claimed that he was setting up a branch of a well-known Rajasthan college in Sukna.  Rath during the inquiry had admitted that he prepared the no objection certificate at the behest of Prakash, his superior officer.

Prakash all through denied any involvement in the land scam.