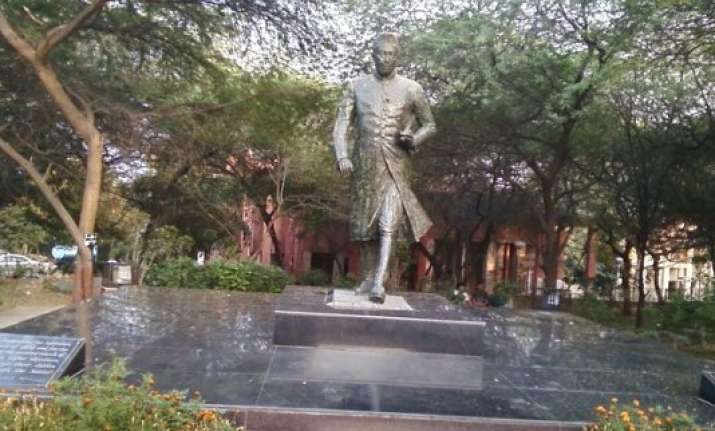 New Delhi: Differently-abled students in Jawaharlal Nehru University (JNU) are unhappy as they say the infrastructural work being carried out to make the campus barrier-free for them has been "very slow".
"The process of making the campus barrier-free is going on. However, we are unhappy with the pace of the infrastructural projects. It is extremely slow. We demand that the process be expedited," says Mohib Anwar, representative of the Visually Challenged Students' Forum in JNU.
Of the total number of hostels in the campus, three hostels have been earmarked to provide accessible toilets, lifts in both its wings for the differently-abled students.
Although many ramps and special pathways for access to buildings and other facilities have been constructed, there is a need to speed up the process, he says.  According to university records, there are over 300 students with disabilities who are enrolled in different courses.
In 2012, the Ministry of Social Justice and Empowerment had sanctioned a special grant of Rs 8.5 crore to support JNU in its efforts to make it a barrier-free campus.
JNU had assigned the work to an agency for construction of disabled-friendly lifts, toilets, tectonic-paving, ramps among others, according to university's website.
The Forum also demanded the newly-elected JNU students' union (JNUSU) to intervene and speed up the process.
"We need to know why the work is not being done. There is a need for the students' union to lobby with the administration," says Anwar.
Meanwhile, the Equal Opportunity Office (EOO) of JNU said that the process of making the campus barrier-free was slightly delayed, primarily due to an access audit needed to determine where the special ramps could be constructed as the university has a hilly terrain, which makes it difficult to chalk out a uniform access plan.
"The campus is not on plain land. Therefore, an access audit which was conducted, took around eight months. Also, to make campus barrier-free, there were a variety of technical works to be implemented," EOO advisor G N Karna said.  
He further emphasised that the initiatives, including installations of elevators in hostels and construction of special toilets, were in its "final stage".  
The EOO is also mulling over a series of measures to make commuting inside the campus easier for wheel-chair bound students, Karna said.
A slew of measures including introduction of 'Digital Voting' for visually-challenged students, which benefitted around 80 students, was recently introduced by the Election Committee in the JNUSU elections.