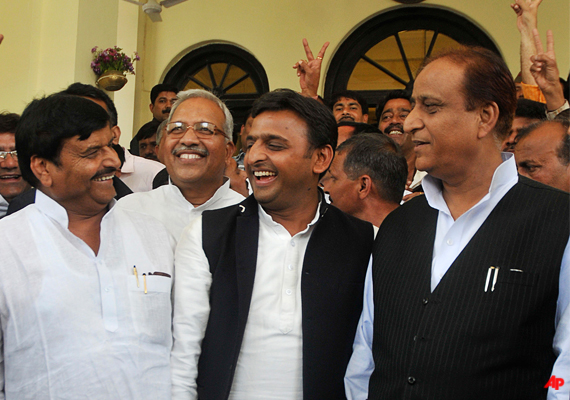 Lucknow, Mar 11: Top SP leaders Shivpal Singh Yadav and Mohammad Azam Khan are among those likely to take oath along with Akhilesh Yadav when he is sworn in as the Chief Minister of Uttar Pradesh on March 15.

Senior leaders on Sunday met at the residence of Samajwadi Party supremo Mulayam Singh Yadav to decide members of Chief Minister designate Akhilesh Yadav's Cabinet who will take oath along with him, party sources here said.

Besides,  Mulayam and  Akhilesh senior party leaders Mohammad Azam Khan, Shivpal Singh Yadav, Ramgopal Yadav and Naresh Agarwal attended the meeting to finalise names of those to be sworn in along with Akhilesh, they said.

Shivpal Singh Yadav,  Mohammad Azam Khan, SP leaders in legislative council Ahmad Hasan, Waqar Ahmad Shah and Arvind Singh Gope are the probable names which have almost been finalised for a ministerial berth.

Waqar Ahmad Shah hails from Bahraich and Arvind Singh Gope from Barabanki.  Gope not only won his Ram Nagar seat but is also credited with ensuring party's victory on all the six seats in his district, where Union Minister Beni Prasad Verma had left no stone unturned to make things difficult for SP.

Besides, some young faces including Abhishek Mishra, who won from Lucknow and Tejnarain Pandey alias Pawan Pandey, who won from Ayodhya are also being considered for ministerial berths.

Meanwhile, preparations are in full swing at the La Martinere ground, where a number of labourers are at work in view of the oath taking ceremony.

Besides Chief Ministers of other states, leader of prominent parties would be invited, party sources said.

"The oath taking ceremony may also see indications of formation of a front ahead of 2014 Lok Sabha polls with presence of leaders of like-minded parties of SP", sources said.

Both Mulayam and Akhilesh left for New Delhi after the meeting.