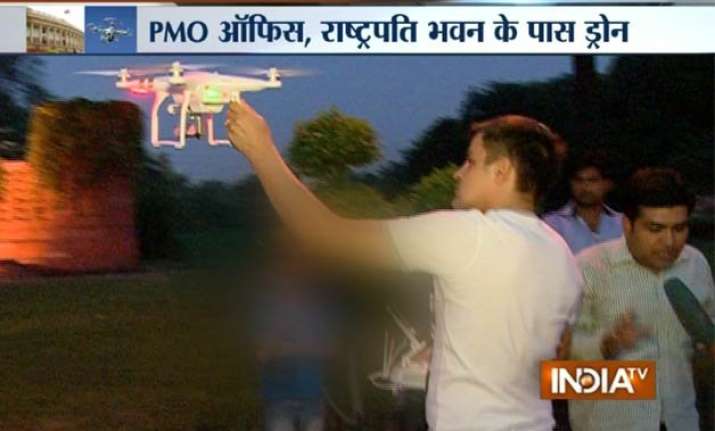 New Delhi: In a major seciurity breach, an unindentified foreigner was spotted flying a suspected helicam near the high-security Vijay Chowk intersection close to Rashtrapati Bhavan and Parliament on Saturday Evening.
India TV reporter Manish Jha spotted the foreigner standing on the pavement near Vijay Chowk with a remote control in his hands.
The foreign national seen with a child was flying the drone relatively low.
Our reporter confronted with the foreigner and told him that its a high security zone
In a frenzy, he stopped the device and later tried to obstruct the camera of India TV crew
Later, he also offered to return the memory card of the device.
When our reporter asked him about his nationality, he left the place without answering.
Police said that the incident was reported in the evening after mediaperson  spotted a foreigner standing on the pavement near Vijay Chowk with a remote control in his hands.
The foreigner was operating a flying object suspected to be a helicam which was seen hovering around 20-30 feet above the ground, said a police official.
The media person further claimed that the vehicle had a diplomatic registration number pertaining to the Russian embassy, said the official.
The incident was caught on camera and the footage in which the unidentified man can be seen sporting a white T-shirt and shorts has been handed over to Parliament Street police station, said the official.
"The issue came to our notice through the media. We are inquiring into it," said DCP (New Delhi) Jatin Narwal.
He said that a special team is studying the video footage and further action will be initiated accordingly.
Police said that it is only when the person who was operating the device is questioned can it be known whether the gadget was actually equipped with a camera and if he was taking photographs or videos in the high-security zone.
Meanwhile, following the incident, security was tightened in and around Parliament Street and several police teams were deployed in the area.
India TV has the exclusive footage of the incident