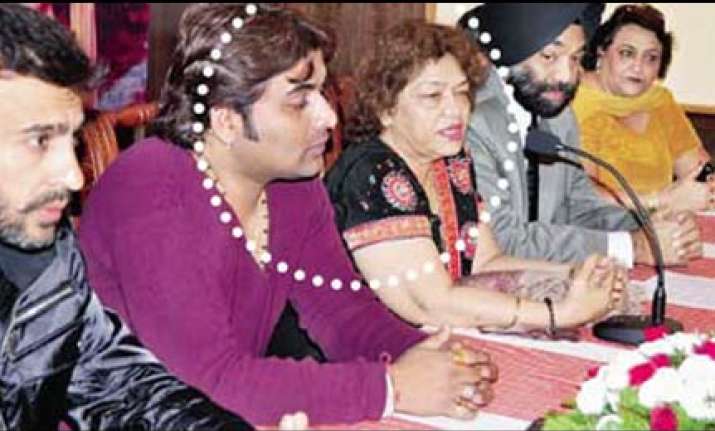 Mumbai: Mumbai police Economic Offences Wing has unearthed a scam in which a man named Sandeep Shukla had duped hundreds of investors of crores of rupees and invested the money in film and television ventures, including choreographer Saroj Khan's dance academy, reality show Dance India dance, co-produced by cricketer Harbhajan Singh and actor Rajpal Yadav's film, which didn't see the light of the day, reports Mumbai Mirror.
The report says, EOW officials suspect  Shukla invested in these ventures with the intention of laundering investors' money. The stars may now have to surrender the money they received from Shukla to the agency.
A team under senior inspector Arvind Wadankar and PI Sudhakar Katakdaund on Friday arrested Shukla's wife, Anita and his relative, Abhijit Gavande, in connection with the case.Shukla, who comes from a village near Azamgarh in Uttar Pradesh, started his career in 2004-05, when he moved to Mumbai and started living in tenement at Dombivali.
Through Divine, his first investment company, he duped thousands of several crores and disappeared. He has since spun a string of dubious ventures like Yes Cube, Bristol and Aurum. These companies promised investors not only over 90 per cent interest on real estate investments but also a plot of land, which didn't exist.
By February 2010, cheques issued by him started bouncing in large numbers and investors thronged EOW. By now, Shukla was on the run with over Rs 1,000 crore in his pocket.
The report quoting EOW officials says, with this money Shukla opened a film production house Leo 1 Productions and a dance academy chain called Leo 1 Studio, which collaborated with the Saroj Khan Dance Academy.
An EOW officer said, "Leo 1 and Saroj Khan's academy launched several franchises together in Mumbai, Delhi, Chandigarh, Jalandhar and Amritsar. Khan inaugurated the venture's first academy herself at Laxmi Industrial Estate, Andheri, in January 2010. We are collecting documentary evidence and will then interrogate those involved to find the money trail."
Khan could not talk as she was busy with a live show. An associate of hers, who took the call on her behalf, told Mumbai Mirror, "At this point it is not proper to comment on this issue. All we can say right now is that we have nothing to do with the scam."EOW officials said that Leo 1 Productions also put investors' money in the popular reality show Dance India Dance.
"Before the dance academies, Shukla produced the second season of Dance India Dance in partnership with Vinay Mahajan, owner of The Right Pictures, and Harbhajan Singh. Later, Shukla forced Mahajan to return about Rs 50 lakh from him," said the officer.
Shukla's company has produced films in Marathi, Bhojpuri, Punjabi and Hindi. His ventures in Hindi included unfinished films like Tens, which introduced 10 starlets, and Kuch Namak Zyada, a project launched shortly after the success of Amitabh Bachchan-starrer Cheeni Kum.This film, based on the underworld, was to star Rajpal Yadav, Irfan Khan, Vijay Raj and Zakir Hussain and Jojo Khan was the director.
"Yadav had taken Rs 50 lakh from Shukla for the film. During his interrogation last week, he told us that after the scam came to light Shukla asked him to return the money. Yadav gave him a demand draft of Rs 22 lakh. This DD is now in our possession. Yadav has promised to pay the rest of the money as well as it belongs to investors," said the officer.
Yadav told Mirror, "I was not alone in this. Several other stars are involved. That film was not completed. Anyway, I am ready to return the money."
Shukla conducted all his business in the name of his wife Anita. She has, however, claimed that she was not aware of his wrongdoings till EOW registered a case against him.
Sanjay Saxena, additional commissioner of police, EOW, said, "All documents seized by us have been signed by Anita, so she has been arrested. We are interrogating her to find the extent of her involvement and also where Shukla has parked investors' money."