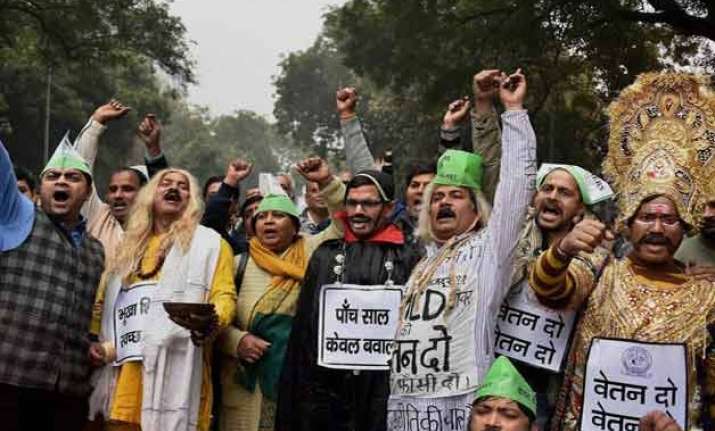 New Delhi: Refusing to end their stir, the sanitation workers unions today said they will seek a "permanent solution" for their grievances from the court, even as municipal authorities claimed that the strike has been called off by other employees of the civic bodies.
The Delhi High Court, while hearing a Public Interest Litigation (PIL) for calling off the strike yesterday, had sought responses of the corporations and the sanitation workers unions in the matter.
"We have gone on strike for the fourth time in last one year because the corporations due to their financial crises have failed to pay our salaries and dues. We will urge the court for a permanent solution of our grievances," said Rajendra Mewati, general secretary of United Front of Municipal Corporations of Delhi (MCD) Employees.
"The municipal corporations lack funds to pay salaries and pending dues of their employees. Even if the strike is called off now, it will take place again as there are no funds with the corporations," said Delhi Pradesh Safai Karmchari Sangh president Moolchand.
"We have got the High Court notice and we will appear before the court to get ourselves heard," said Sanjay Gehlot, president of Swatantra Mazdoor Vikas Sanyukt Morcha.
 Municipal authorities claim that except for sanitation workers, the strike has been called off by other employees of the civic bodies.
"The doctors, nurses and para medical staff had called off their strike last night and now teachers and engineers too have ended it," said Harshdeep Malhotra and Ravinder Gupta, mayors of East and North Delhi Municipal Corporations.
However, the United Front of MCD Employees in a press statement claimed that the strike is still continuing.
"The strike started on January 27 is still continuing and has not been called off till date," said president of the association Rajesh Mishra.
"Some employees of Health and Engineering department have dissociated themselves due to fear or favour but they are not authorised to give any statement or to call off this strike," he said.
The Health Services employees including senior doctors, resident doctors, nurses and para medical staff have communicated their decision to call off strike, said a senior municipal corporation officer.
"The sanitation workers unions have been given notices to appear before the High Court to explain themselves for continuing the strike," he said.
The association of municipal corporation teachers too said that it ended its agitation following payment of salaries.
"We have received our salaries following which we have decided to call off the strike," said Ram Niwas Solanki, general secretary of Nagar Nigam Shikshak Sangh.
The commissioners of two civic bodies have directed the zonal deputy commissioners and heads of department to ensure that their staff performed duties as salaries have been disbursed.
List of the employees not performing their duties will be forwarded by the officials to the Additional Commissioner (Labour) so that it could be submitted before the High Court, officials said.