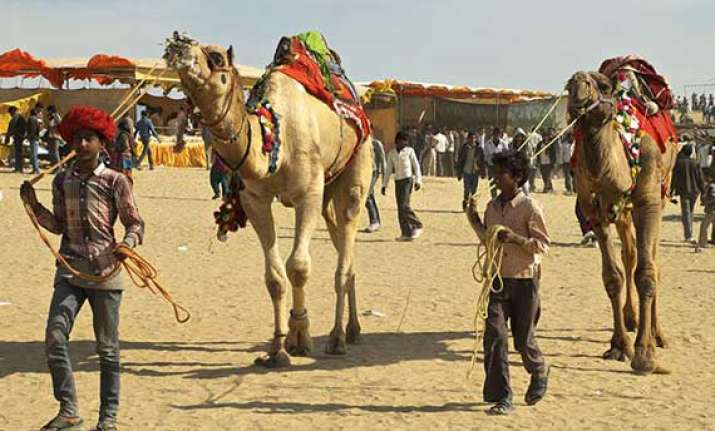 Bikaner: Rajasthan government today decided to declare Camel as the state animal and also to strengthen road network in the state and create job opportunities for the youth.
These decisions were taken in a cabinet meeting chaired by chief minister Vasundhara Raje on the last day of the 'Sarkar Aapke Dwar' campaign here.
"One of the important decisions is to declare camel as the state animal. The cabinet gave its nod to prepare an act for the protection and conservation of the animal which will help in checking smuggling and migration of the animal," Rajendra Rathore, Parliamentary Affairs minister told reporters after the meeting.
He said formation of a state highway authority for strengthening road and highway network, generation of maximum jobs for eligible youths and amendment in boilers act 1923 were among other decisions taken in the cabinet meeting.
"20,000 km long roads would be developed on the lines of mega highways by the state highway authority. An East-West mega highway corridor would be constructed and one lakh km long rural and other roads would be properly maintained," he said.
The cabinet also approved the proposal of revoking ban from registration of land in Pachpadra and Jasol areas in Barmer, where the ambitious oil refinery project is proposed.
Earlier the government had imposed a ban to stop the massive sale and purchase of land, specially after the announcement of setting up of an oil refinery was made.
The government has also decided to amend the Boilers Act 1961, Apprentice Act 1923 and Rajasthan Civil Services Pension rules.
After the amendment in the Boilers Act, industrialists could install boilers in their factories without going through the inspections conducted by the concerned government department and the inspection can be done by any technical expert who fulfils the norms set by the union government.
The minister also informed that three amendment bills (the Industrial Disputes (Rajasthan amendments) Bill 2014, Contract Labour (regulation and abolition) Rajasthan amendments bill 2014 and Factories Act 1948 Rajasthan amendment act would be introduced in the upcoming session of the Assembly.
Several announcements for four districts of Bikaner, Churu, Hanumangarh and Ganganagar, under the Bikaner division, were also made by the government as the 12-day long campaign, which started here on June 19, came to an end today.
During the campaign the Chief Minister, ministers and officers visited the division to redress people's grievances and address their issues.