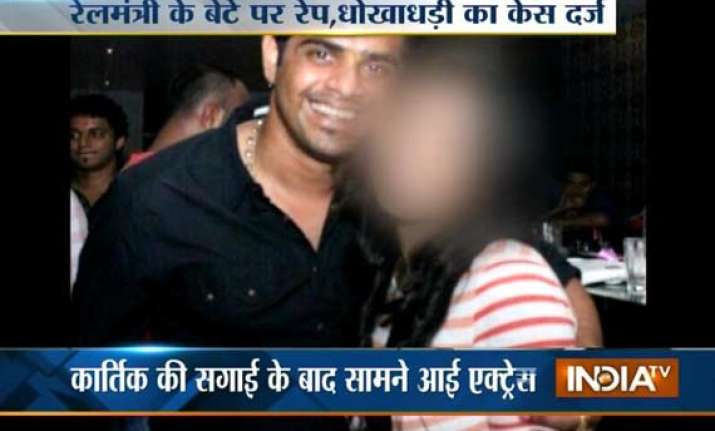 Bangalore: A case of rape was registered against the son of Railway Minister DV Sadananda Gowda on a complaint filed by a woman who claimed that she is married to him.
Gowda expressed shock at the allegation and suspected a conspiracy and attempt to blackmail, while his son Karthik rejected the woman's claim.
"She has filed a complaint in RT Nagar police station against Karthik Gowda, Sadananda Gowda's son, for allegedly raping and cheating her," Bangalore Police Commissioner MN Reddi said.
The case has been booked against Karthik under sections 376 (punishment for rape) and 420 (cheating) of the Indian Penal Code, Reddi said.
The woman, who was a small-time model and has acted in a Kannada film as a heroine, claimed she is married to the minister's son, who got engaged to another woman at a ceremony at Kushalnagar in Kodagu District on Wednesday.
She claimed on Kannada TV channels that they came to know of each other through a common friend and later got married.
Karthik, she claimed, had also told her that he would convince her parents, she said.
"How can he (Karthik) get engaged to another girl when he is already married to me," she said.
Before the complaint was filed, Sadananda Gowda told reporters in Kushalnagar that he was 'shocked' and 'hurt' at the allegations levelled by her.
He also suspected 'a big conspiracy' adding, "I feel hurt. My life is an open book. I will not lie or cheat public...I am shocked...this kind of blackmail."
He said his family would also not give room 'for any such things (cheating)'.
"I will speak to my son...I have to think if a girl has to blackmail...if Sadananda Gowda becomes a scapegoat," he said.
Reacting to the woman's claims, Karthik said, "There is nothing like that...My father is a respectable man...why should I spoil it."