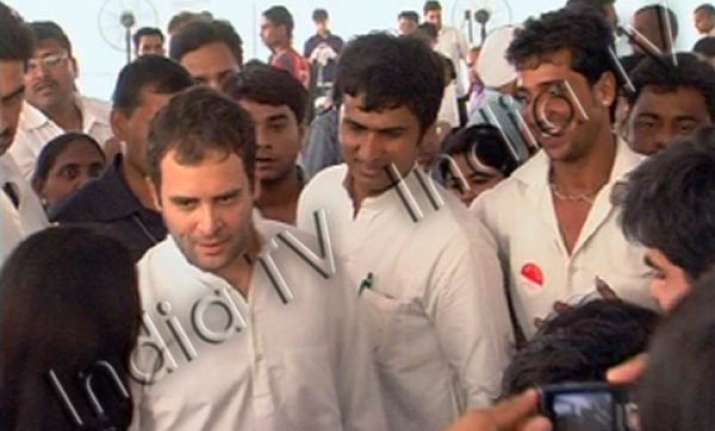 Greater Noida, May 11 : Rahul Gandhi was arrested tonight by the UP police capping a day of high drama after he slipped in unnoticed in pre-dawn hours to support the farmers agitating against the state's land acquisition process for a expressway project.

Gandhi, who spent nearly 19 hours at Bhatta Parasul the epicentre of the farmers' agitation, was arrested under Sec 151 CrPC."He will be presented before a Sub-Divisional Magistrate tomorrow," Inspector General of Police (Meerut Range) Rajnikant Mishra said.

Gandhi was taken away from the dharna site in Bhatta Parsaul Village in a grey Tata Safari ostensibly to an undisclosed location.The Amethi MP smiled to the large battery of media before getting into the vehicle along with AICC General Secretary Digvijay Singh, UP Congress chief Rita Bahuguna Joshi and other Congress leaders.

At late night press conference in Lucknow, UP Cabinet Secretary Shashank Shekhar Singh that Gandhi will be released outside the state border tomorrow.

He claimed that the situation in Bhatta Parasaul was calm and attempts were being made to vitiate the atmosphere there.  The UP Cabinet Secretary said there were no prohibitory orders in force in Bhatta Parasaul since this morning as the orders were in place till only May 10.

Singh said prohibitory orders were re-imposed in the area after Congress leaders sought permission from the state authorities to hold a rally in the village.

Congress promptly attacked Mayawati for Gandhi's arrest with AICC General Secretary Janardan Dwivedi saying UP has witnessed "the cruellest rule of several imperialistic regimes".

"UP government's action in arresting Rahul Gandhi proves that Mayawati is digging her own grave," Dwivedi said.

"If any sense of justice is left in the government, judicial inquiry is the minimum that the state government should order immediately," he said.

Slipping into Batta Parsaul village in the wee hours riding pillion on a motorcyle, Gandhi sat with the agitating farmers throughout the day in scorching heat to empathise with their cause and women who lost their men.

"I feel ashamed to call myself Indian after seeing what has happened here. The (state) government here has unleashed atrocities on its own people," he told the farmers.

Even as he sat on a dharna, a war of words erupted, with BJP terming it as a "drama" and wanting to know why the UPA government was still not acting on his earlier promise of bringing Land Acquisition Bill in Parliament.

The Congress, on its part, said it was keen to get on early passage of the bill in Parliament.Gandhi said he associated with them as they were demanding their "right" and there was "nothing wrong" in it.

"I want to tell you that I am with you till your demands are met. Till your work is not done, the Congress party will not desert you," he said to a thunderous applause from the gathering which shouted slogans hailing him.

In Lucknow,  Uttar Pradesh Chief Minister Mayawati  on Wednesday night  launched a counter offensive against opposition parties accusing them of provoking the farmers of Bhatta Parsaul into violence and charged the Centre with doing nothing to bring a new law for land acquisition.

"There was total peace in Bhatta Parsaul. But the opposition parties are trying to spark a law and order problem by provoking the farmers of the area", Mayawati was quoted as saying by UP Cabinet Secretary Shashank Shekhar Singh.

She claimed the villagers of Bhatta Parsaul, the epicentre of the farmers' agitation against land acquisition by the state government, have made no demand and the situation there was "totally peaceful".

However, it was the opposition parties which had made the demand and created a law and order problem by provoking the farmers, Singh told a press conference shortly after midnight.PTI