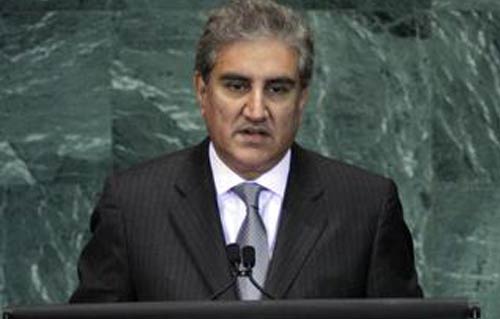 India might be upbeat about U.S. President Barack Obama's recent endorsement for a permanent UNSC seat, but Pakistan Foreign Minister Shah Mahmood Qureshi has only one message for the Indian government — Hunooz Dilli door ast.
Mr. Qureshi invoked Delhi's most revered sufi saint Nizamuddin Auliya while commenting on Mr. Obama's clear backing for India's aspirations for a permanent Security Council seat.
"I have a message for the people in Delhi — Hunooz Dilli door ast," Mr. Qureshi told a news conference at the Foreign Office, using the quote attributed to Nizamuddin Auliya that means "It's still a long way to Delhi'
The Persian phrase is often used to describe a task that cannot be easily accomplished.
Mr. Qureshi suggested that India's efforts to gain a permanent membership could be a long-drawn and complicated process despite Mr. Obama's backing for the move.
Mr. Qureshi was responding to questions about the proposed expansion of the U.N. Security Council and Mr. Obama's recent endorsement for India's efforts to join the world body's key decision-making organ.
Mr. Qureshi, who addressed the news conference with his visiting Italian counterpart Franco Frattini, said Pakistan wants a "comprehensive, democratic and representative" expansion of the Security Council.
He said he had spoken to his Chinese counterpart about Pakistan's reservations on India's bid to gain permanent membership of the body and President Asif Ali Zardari is also expected to raise the issue during his ongoing visit to China.
Pakistan has already expressed its opposition to Mr. Obama's backing for permanent membership of the Security Council for India, saying the move has implications for peace and security in South Asia.
Pakistan has listed India's strained relations with its neighbours and alleged violation of U.N. resolutions on the Kashmir issue as reasons why it shouldn't be granted membership of the Security Council.
Mr. Qureshi also said Pakistan and Italy have unanimity of views on the expansion of the Security Council on the basis of regional representation.
He added that the two countries were working closely on many international issues.
Mr. Frattini said the Security Council should not be expanded only to increase the number of permanent members.
Italy is in favour of reforming the Security Council and would not block the membership of any country but the process should be based on "regional representation", he said.
Replying to a question about the Kashmir issue, Mr. Frattini said, "Yes, it is a problem for Pakistan and needs to be addressed".
He said it is in India's interest to have "excellent relations" with Pakistan and that New Delhi should work for "positive movements" to resolve the dispute.