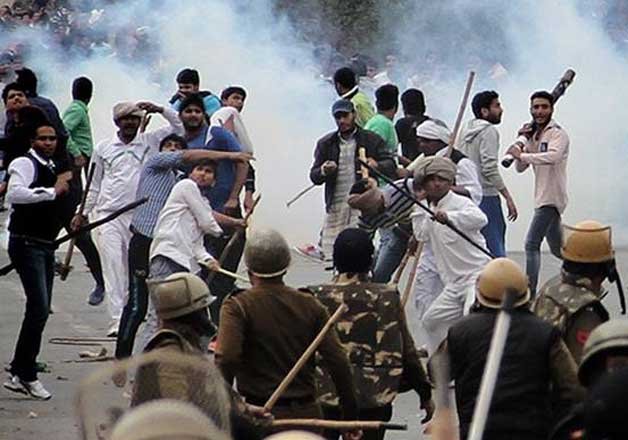 Chandigarh: Jat protesters today overtunrned an offer of truce by Haryana chief minister Manohar Khattar, saying they will only withdraw their agitation when the government brings in an ordinance to include the Jat community within OBCs. Khattar had today said that the government was willing to accept all their demands and urged them to end their protests which has thrown normal life completely out of gear.
Chaos reigned in Haryana on Saturday with escalated violence in several areas as hooligans, who have joined ranks of jat protestors, ran amok, setting afire government and private property and vehicles, blocking roads and highways, disrupting trains and uprooting tracks and indulging in looting.
Curfew was imposed in Hisar, Sonipat and Jind towns after violence. Violence was also reported from Kaithal.
The death toll in the violence in past 36 hours has reached four with over 100 people being injured. One person was killed when soldiers opened fire on an unruly mob in Jhajjar.
Here is an account of the events as they unfolded through the day:
* Jat protesters deny Haryana CM Manohar Lal Khattar's offer of truce. The Haryana CM today said the government was willing to accept all their demands.  
* "We will not withdraw our agitation unless the state government brings an ordinance for giving reservation to Jats. We will not accept mere statements issued by Khattar. The government will have to promulgate ordinance first. The government should pass a bill in this regard in the (state) assembly," All India Jat Aarakshan Sangarsh Samiti's national president Yashapal Malik told PTI.
* Jat protestors set Coopoerative bank on fire in Fatehabad.
* "Situation comparatively improved. 129 cases have so far been registered against those agitating," says Haryana DGP Y.P.Singhal. 
* Meeting underway at Home Minister Rajnath Singh's residence in Delhi. Army Chief, NSA Ajit Doval, Defence Minister Parrikar present
* Shoot at sight orders issued by Deputy commissioner in areas of Hissar and Hansi areas of Haryana.
* Four people reported killed in Haryana's Jhajjar in Army firing after protesters tried to defy curfew. 
* Reservation protests reach Delhi with agitations on the Delhi University north campus and at the Delhi-Sonepat border blocking the National Highway 1, which connects the national capital with Haryana, Punjab, Himachal Pradesh and Jammu and Kashmir.
* Nine Delhi-bound trains cancelled as a result of the Jat reservation agitation. 
* Maruti Suzuki Plant in Manesar (Gurgaon, Haryana) temporarily closed as a precautionary measure following Jat reservation protests.
* BJP to issue showcause notice to party MP Raj kumar Saini for his alleged comments opposing Jat reservation
* Jat leaders from Uttar Pradesh to meet Home Minister Rajnath Singh at 8 pm today
* BJP says it will issue showcause notice to party MP Raj Kumar Saini for his alleged comments opposing Jat reservation
* Chaudhary Birender Singh, Sanjeev Balyan & O.P. Dhankar to jointly hold a press today at 4:15 PM at BJP heaquarters
* Curfew imposed in Jind as protestors set railway station on fire
* I appeal to the people especially the youth to stop the protests, nothing will be gained by destroying property-Haryana CM ML Khattar
* A mob in Rohtak district's Meham area set a police station, a petrol pump and a government building on fire.
The police station has been set on fire by a group of about 2000-2500 people. They went on rampage today and also set on fire a petrol pump, a government building and a banquet hall," Rajender Singh, sub-inspector and SHO of Meham police station, said.
* Curfew imposed in Sonipat district of Haryana: SSP Abhishek Garg
* Appeal to protesters to return to their homes and maintain peace-Sanjeev Baliyan,Union Minister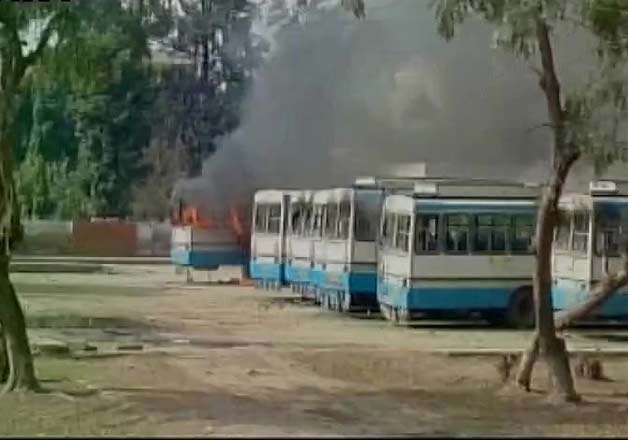 * All inter-state trains and buses plying between Jammu and Mata Vaishno Devi Shrine basecamp town of Katra were suspended today in view of the Jats` stir in Haryana, leaving hundreds of passengers
* Meeting underway between BJP leaders Sanjeev Baliyan, OP Dhankar,Chaudhary Birendra Singh,Ram Lal and Anil Jain
* Rohtak, Bhiwani, Jhajjar are the places where curfew has been imposed: YP Singhal, Haryana DGP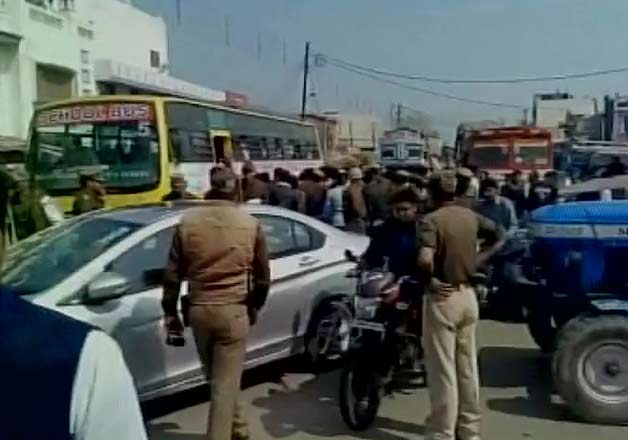 * It is false that IG's residence has not been vandalised, house gate was burnt & stones were pelted at his house:YP Singhal, Haryana DGP
* Whatever cases we have registered, strict action will be taken in those
* There was stone pelting at Saini ji's(BJP MP) house,but the police reached the spot instantly and dispersed the protesters
* Want to appeal that the elderly advise the younger people to not take part in such protests: YP Singhal (Haryana DGP)
* Haryana Home Secretary and Director General of Police YP Singhal to address media at 12 pm in Chandigarh.
* Students from Jat community protest outside North Campus, Delhi University (Mall Road)
* Railway station set on fire in Jind. Some unidentified persons set on fire the Budha Khera Railway Station in this district today
* Agitators block roads and railway tracks at many places across #Haryana.
* Meeting underway at HM Rajnath Singh's residence.Defence Minister, Finance Minister & MoS Home Kiren Rijiju also present.
* BJP President Amit Shah asks Jat leaders of the party to talk to protesters and sort out the issue soon
* Around 150 trains have been cancelled, some trains have been short-terminated.
* The army staged a flag march at Bhiwani and used helicopters to drop troops at Rohtak where curfew remained.
* Jat protesters torched a station master's office at railway station in Jind in the wee hours of Saturday.
Chandigarh: Three people were killed and dozens injured even as the army was called in eight districts of the state with curfew and shoot-at-sight orders imposed in in Biwani and Rohtak to rein in the worsening law and order situation in the state
The train services have been badly hit in the state in the wake of the pro-reservation agitation. Passenger trains going from Delhi to Haryana, Rajasthan, Punjab and Jammu have been affected.
"Around 150 trains have been cancelled, some trains have been short-terminated," Neeraj Sharma, PRO Northern Railway, said.
AK Singh, a special officer, appointed with magisterial powers for Rohtak, Sonipat and Jhajjar districts, along with DGP rank officer BS Sandhu, also left for Rohtak in a government chopper.
According to reports, schools will remain shut on Saturday in the eight districts racked by violence. Authorities have already blocked internet and SMS services in the affected areas.
Reports also say, the protesters set RN Mall in Rohtak on fire and also looted a private armoury.
Top Union ministers – Rajnath Singh, Manohar Parrikar, Arun Jaitley and Sushma Swaraj –reviewed the law and order situation in the state along with NSA Ajit Doval and Intelligence Bureau chief Dineswar Sharma.
Jat leaders reject Government's offer
Demanding the inclusion of the Jats in the OBC category, agitating Jat leaders today rejected the offer made by Haryana government and asserted that their agitation would continue till their demand is met. "There is no solid offer made by Haryana government.
BJP government is just trying to befool Jats as its intentions with regard to giving reservation to Jats is not clean," All India Jat Aarakshan Sangarsh Samiti's national president, Yashapal Malik said.
After holding an all party meeting here, Haryana Chief Minister Manohar Lal Khattar said the state government will prepare a draft Bill for giving reservation to Jats and suggestions have also been sought from all parties in this regard.
Khattar, earlier in the day, said the Government has "positive approach" on Jats' demand and if all parties agree, then the government would bring a Bill in the ensuing session of Haryana Vidhan Sabha.
Reacting to it, Mailk said, "the government should first bring an ordinance and then bring a Bill in Haryana Vidhan Sabha for giving reservation to Jats. If government does it, then it will be acceptable to us," he said. Over the death of one person in firing in Rohtak, Malik said "It is the government which indulged in violence.
Jats are very angry with the BJP government over the death of one person. Our agitation will continue till our demand is met." Earlier in the day, Mailk had threatened to intensify agitation in other parts of the state including Panchkula and Yamunanagar.
"We want BJP government in Haryana to bring legislation in the upcoming budget session to include Jats in OBC category," he said.
"Only Haryana CM has problem in giving reservation to Jats. Rest of leaders in BJP is in favour of giving reservation," he said. Malik also accused Khattar of having "castiest mentality". "Khattar has jatiwadi mansikta (casteist mentality) because he is not a Jat.
He is trying to prove himself as a leader of non-Jat people in the state by way of not giving reservation to Jats as was done by former Haryana CM Bhajan Lal in the past. His (Khattar) stand is against party line. The problem in Haryana today arose because of his mentality," Malik said.

(With agencies)