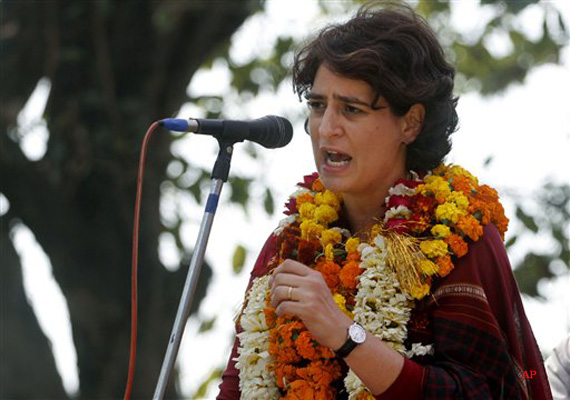 Rae Bareli, Feb 13 : Congress president Sonia Gandhi's daughter Priyanka Vadra today said, both the Election Commission and Law Minister Salman Khurshid had their rights to express their views in a democracy, and she hoped that the matter would be solved soon.
 
Priyanka said: "We're a democracy. People are entitled to give their own views. Election Commission is free to give its own view. I think the matter will be sorted out soon.
 
Speaking to mediapersons here, Priyanka was asked about yoga guru Swami Ramdev criticising her for bringing her two children in the campaign.
 
Priyanka replied: "If people make personalized attacks, it means clearly they do not want to involve themselves in real issues. This election is not about persons, it's about issues, particularly the development of UP. If people speak on personal issues, it means they really don't care what they're saying."
 
On party chief Sonia Gandhi's health, Priyanka smiled and said:" My mother is absolutely healthy. She is not unwell at all."
 
Priyanka said, other parties were making useless statements, and it was only the Congress which is speaking about development issues in UP. "I am fully hopeful we will form our own government", she added.
 
"Rahul Gandhi had himself been saying he does not have a magic wand. The magic wand is in the hands of the people. I have been telling the people of Amethi and Rae Bareli that we did so much development work when the Congress was in power, both in UP and at the Centre.
 
"But now, though there are electric poles, there's no electricity, canals are ready, but there is no water, and fertilizers are being sent, but they are not being distributed to farmers", Priyanka said.