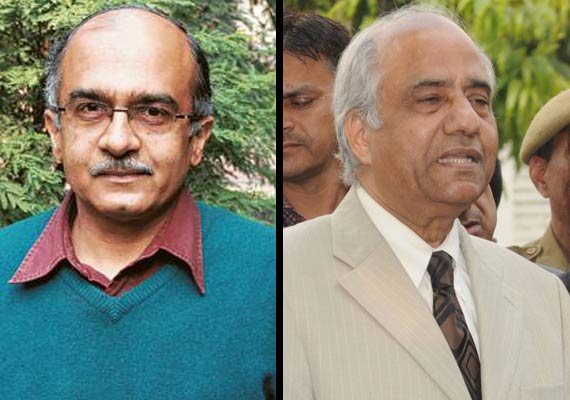 New Delhi, May 31: Activist, lawyer and member of the drafting panel of the Lokpal Bill Prashant Bhushan has alleged that Justice B N Srikrishna, who headed the high-powered committee on the Telangana issue, wrote a negative report at the behest of corporate firms working with the motive to keep Hyderabad out of the proposed state.
 
Speaking at a panel discussion on Telangana in the Capital on Sunday, Bhushan alleged that Justice Srikrishna's "track record" showed that he had favoured corporate firms and cited a 2003 judgment in a case relating to Mauritius double-taxation treaty as an example.

"These very corporates, whom he helped evade tax in the country through that judgment, are now interested in Hyderabad remaining outside Telangana. These corporates are putting pressure on him not to allow the second solution of creation of Telangana with Hyderabad as its capital. This is the real motivation behind the report," Bhushan said.

Justice Srikrishna told The Indian Express that it was beneath his dignity to respond to such insinuations. "They are being made by a political person. I have done my job and it is for the government to do what it wants with the report on Telangana," he said.

"Each person is entitled to freedom of speech," he said. Bhushan said an Income-Tax officer in Mumbai had rejected tax exemption claims by corporates registered in Mauritius but operating fully in India, and penalised them for tax evasion on grounds that they were post box companies. However, the then NDA government, within four days, issued a circular that they be allowed tax exemption if they had registered in Mauritius.
"That circular was challenged by us in the Delhi High Court as being unconstitutional and violative of the Income-Ta x Act. Only Parliament had the power to give such exemption. Justice S B Sinha gave a very strong judgment, saying this was a fraud.

However, when the government appealed to the Supreme Court and the matter came before the bench of Justice Srikrishna and Justice Ruma Pal, they accepted the government argument through Soli Sorabjee, who said this fraud has been allowed to encourage foreign investment. That judgment showed the mentality of the judge. The thinking was that corporates have to be encouraged to evade taxes in the country even if it involves adoption of fraud," Bhushan told the gathering.

An angry Justice Srikrishna said the charges were atrocious.

"What does he mean? It is a judgment by a two-judge bench of the Supreme court. Does he mean to say that both judges were favouring corporates? If he did not like the judgment, he should have objected to it then itself. How can he come up with allegations after seven years? Come to think of it, they had moved a curative petition which was dismissed by a five-judge bench. Saying half truths will not help. I cannot respond to allegations of this kind," Justice Srikrishna said.