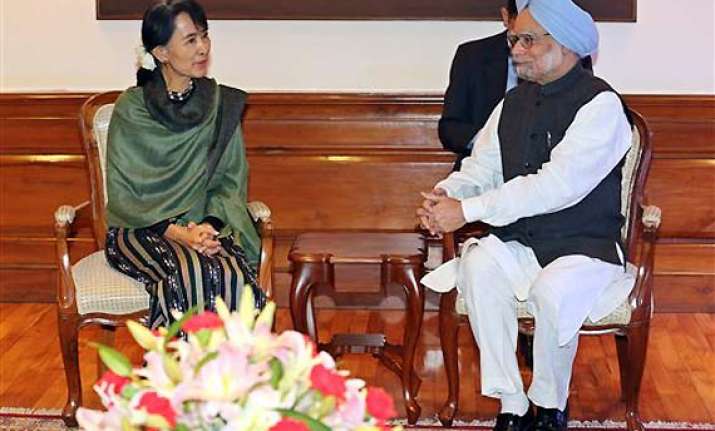 New Delhi, Nov 14: Pitching for greater popular exchanges between India and Myanmar, Prime Minister Manmohan Singh Wednesday met pro-democracy iconic leader Aung San Suu Kyi here and discussed the process of democratisation in her country that is on the cusp of historic changes.
The talks between Manmohan Singh and Suu Kyi lasted for half-an-hour. "The two leaders also had one-on-one talks without aides," Syed Akbaruddin, spokesperson of the external affairs ministry, told reporters here.
In his interaction with Suu Kyi, the prime minister lauded her "indomitable courage" and her life-long struggle to bring democracy to the resource-rich Southeast Asian country.
"Our good wishes are with you as indeed with your struggle for democracy. We admire you for the indomitable courage you have shown," the prime minister told Myanmar's opposition leader.
"The two discussed a variety of issues, including the national reconciliation process underway in Myanmar and the process of democratisation in this context. The prime minister welcomed the progress made by Daw Suu Kyi and President Thien Sien," said sources.
The two agreed that people-to-people relations were important, said the spokesperson.
They agreed to look at greater exchanges between parliaments and judiciary of the two countries, he added.
Conveying his happiness at receiving her in New Delhi, Manmohan Singh thanked Suu Kyi for accepting the invitation to deliver the Jawaharlal Nehru Memorial Lecture.
Suu Kyi began her six-day visit to India Tuesday, her first trip to the country, where she studied, after a quarter century. She is visiting India two years after elections in Myanmar that brought a civilian reform-minded regime to power.
"It is good to be back in India," the Nobel laureate told a TV news channel Wednesday morning.
"...I am glad that I can still recognise parts of Delhi," she said.
Suu Kyi studied at the Convent of Jesus and Mary School and graduated in political science from Lady Shri Ram College, one of Delhi's most reputed colleges for women, when her mother was Burma's envoy to India.
She is expected to meet students and the faculty of the LSR, as her college is popularly known.
On the political level, she said she wanted closer relations between the people of the two countries because a gulf had emerged in recent years.
Suu Kyi and her mother -- Suu Kyi's father was a friend of Nehru -- lived in the 1960s at 24 Akbar Road, now the headquarters of the Congress party.
Suu Kyi is also scheduled to meet Vice President Hamid Ansari, Lok Sabha Speaker Meira Kumar, Congress president Sonia Gandhi and External Affairs Minister Salman Khurshid.
She will visit The Energy and Resources Institute (TERI) in Gurgaon before flying to Bangalore and Andhra Pradesh.
India honoured Suu Kyi with the Jawaharlal Nehru Award for International Understanding in 1992 while she was under house arrest under the military government in Myanmar.