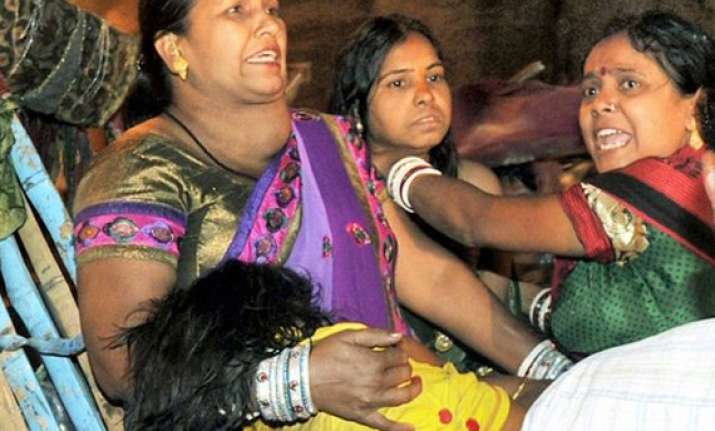 Patna: With one more person succumbing to injuries, the toll in the stampede outside the sprawling Gandhi Maidan here after Dussehra celebrations has climbed to 33.
Principal Secretary Home Amir Subhani told PTI that one more person died today, taking the toll to 33.  Twenty-nine others were injured of whom the condition of four patients was stated to be critical, Subhani said.  
Of the 29 injured admitted to the Patna Medical College and Hospital (PMCH), 17 are women and 12 are men, he said.  
Subhani, who along with Additional Director General of Police (Headquarters) Gupteshwar Pandey has been appointed to inquire into the stampede incident, said he would begin the probe with a visit to the spot at Gandhi Maidan at noon.  
A large number of wailing people sat outside the PMCH the entire night looking for their near and dear ones who got separated in the melee.
Additional police force has been deployed at the incident site near Ramgulam Chowk.
The tragedy struck at around 7 PM yesterday at the South East corner of the ground near the Exhibition road when the people who were were returning after watching the "Ravana Vadh" (killing of demon king) event jostled with each other to move ahead, eyewitnesses and officials said.  
Tens of thousands of people had gathered to watch the annual event at the historic Gandhi Maidan where several pockets were reportedly dimly lit when the stampede broke out.  Opposition BJP has criticised the Jitan Ram Manjhi government for the "lapses" that resulted in the tragedy.
Of the dead, 21 were women, 10 were minors and two men, according to the list available at the PMCH. Seven girls were among the ten minors.
Thirty of the victims have been identified and 28 bodies handed over to their family members at the PMCH, DSP Sibli Nomani said.
The process for identification of the rest was on, he said.
The four critically injured, including two boys and two girls, were being treated at the ICU of PMCH.  Meanwhile, state Health Minister Ramdhani Singh had to face the ire of the relatives of the victims at PMCH and had to beat a hasty retreat from the spot.
 
As the minister came out of the hospital, a group of angry relatives of the victims thronged his car and shouted "Why are you coming here after 16 hours?"  
When reporters asked the minister about the BJP criticising the state government for the tragedy, he said, "The opposition is doing its duty while we are doing our job." The district administration, meanwhile, has removed footwear strewn on a one km stretch of road at the stampede spot.
Hundreds of footwear were loaded in a police vehicle from near Ramgulam roundabout outside Gandhi Maidan.
For more information, please contact following authorities:
Designation                                          Division        Office (code 0612)    Mobile    
     
Commissioner                                      Patna          2219205          9473191425, 9431821030  
IG (Inspector General)                          Patna          2219406         9431822950    
     
DIG (Deputy Inspector General)         Patna          2219717        9431822955    
     
District Magistrate (DM)                      Patna         2219545        9835026485    
     
Senior Police Superintendent (SSP) Patna        2214318, 2219745    9431822967    
     
City SP                                                  Patna         2219423         9431822969    
     
Rural SP                                                Patna        2219559         9431822968    
     
Traffic S P                                             Patna        2219543         9431822970    
     
DSP Town                                             Patna                                 9431818400    
     
DSP Patna sadar                                Patna                                 9431800119    
     
DSP  Barh                                            Patna 06132 - 242306    9431800117    
     
DSP Law & Order                               Patna                                 9431818398    
     
DSP Sachiwalya                                 Patna    0612 - 2222971  9431818399    
     
DSP Danapur                                      Patna    06115 - 227203   9431800116    
     
DSP Phulwari Sharif                           Patna    0612 - 2555666   9431467724    
     
DSP Masaurhi                                     Patna    0612 - 2435707   9431800115    
     
DSP Paliganj                                       Patna    06135 - 277358   9431800114    
     
DSP Sachiwalya (Surakchha)         Patna    0612 - 2221014     9431494876