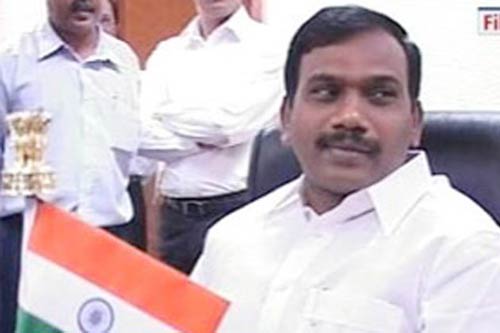 New Delhi, Nov 15 : Notwithstanding the resignation of Telecom Minister A Raja, an agitated opposition paralysed proceedings in Parliament for the fourth consecutive day today demanding joint parliamentary probe into the 2G spectrum scam.
Not satisfied with the Raja's resignation, members of BJP and its allies, as also the AIADMK, Samajwadi Party and RJD stormed the well of the Lok Sabha, raising slogans demanding a JPC into the scam, forcing adjournment of the Question Hour first and later for the day.
Similar scenes were witnessed in the Rajya Sabha where BJP and AIADMK members rushed into the well, stalling proceedings and forcing Deputy Chairman K Rehman Khan to adjourn the House for the day.The winter session has continued to experience disruptions since Parliament was convened last Tuesday.
Earlier when Lok Sabha met, BJP members stormed the well raising slogans 'We want JPC'. They were joined by members of Shiv Sena and AIADMK. Left parties and Samajwadi Party members were also seen on their feet at their seats.
The opposition onslaught was countered by members of the Treasury benches who raised slogans 'We want Question Hour' and waved the List of Business for the day.
In the melee, Speaker Meira Kumar called for the Question Hour. But sloganeering from the Opposition grew shrill, prompting the Chair to adjourn the proceedings till noon. Rajya Sabha too witnessed the same pattern of disruption over the alleged irregularities in the 2G spectrum allocation.
Similar scenes were witnessed in the Rajya Sabha where BJP and AIADMK stalled proceedings demanding a JPC. Chairman Hamid Ansari called for the first listed question of the day, but the protesting members were unrelenting.
The opposition slogan shouting in the Upper House was countered by ruling Congress members who sought resignation of Karnataka Chief Minister B S Yeddyurappa over alleged illegal mining in the state.PTI