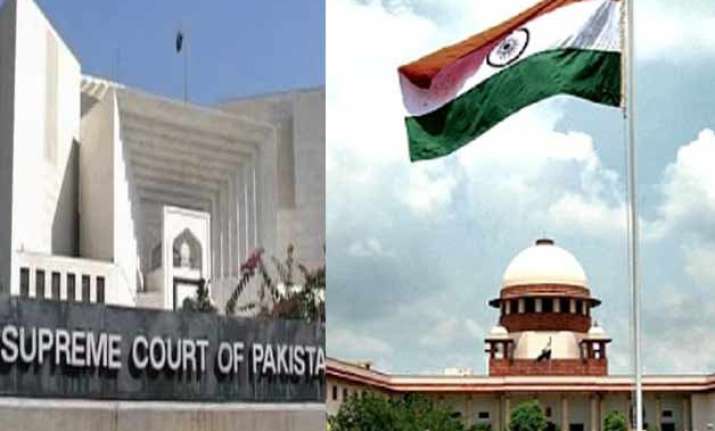 New Delhi: In a sparking revelation from the judicial foyers of our estranged neighbor Pakistan, it came into limelight that their highest judicial authority i.e. the Supreme Court of Pakistan (SCP) prefers following Supreme Court of India (SCI) often.
One such recent occasion was on December 17 when SCP decided the jurisdiction of High Courts to entertain appeals against interim orders passed by Election Tribunal. A number of petitions had been filed there, challenging the elections of several candidates elected to Parliament in the 2013 general elections.
One such case was of Javaid Hashmi, ex-party president of Tehreek-e-insaaf, during whose case SCP ruled the exclusion of jurisdiction of all courts in regard to election matters.
SCP following footsteps of SCI in this case and dismissing all the appeals, it ruled: "The legal position that emerges from the combined reading of the case law is that an interlocutory order passed by the Tribunal cannot be questioned in constitutional jurisdiction until the same is patently illegal and the same for reason cannot even be challenged in appeal...." 
The SCP has quoted the ruling passed by Indian Supreme Court in EC vs Shivaji (AIR 1988 SC 61) case.
Four other judgments have also come into forefront where advocates of SCP had followed the rulings of Supreme Court of India. They are - Hari Vishnu Kamath Vs Ahmad Ishaque (AIR 1955 SC 233), Mohinder Singh Gill vs Chief Election Commissioner (AIR 1978 SC 851), Upadhaya Hargovind Devshker Vs Dhirendrasinh Virbhadrasinh Solanki (AIR 1988 SC 915) and K Venkarachalam Vs A Swamickan (AIR 1999 SC 17230).
All these four judgments ensured sanctity of the democracy and non-interference of judiciary in the matter related to election processes, as is followed by the Indian judiciary.