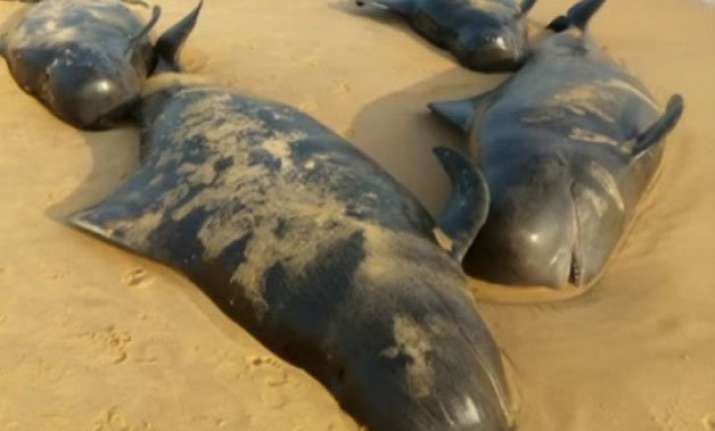 New Delhi: More than 100 whales were found washed ashore in Tamil Nadu's Tuticorin this morning.
While 20 were found dead, others were battling for their lives with local fishermen trying pulling them back into the sea.
Reports say that more than 100 whales were found on the 16km stretch from Alanthalai to Kallamozhi coastal hamlets.
The whales started reaching the shore in groups yesterday evening. Fishermen remained awake the whole night to keep pulling whales back into the sea.
Local administration informed that this is for the 'first time when these small fin whales have beached'.
"This is an unusual thing...an unusual mortality incident, we have to find out the reason," Marine Scientist Velumani at the fisheries department, said.
Few days ago, people along the shores of Kallamozhi had alerted the forest department officials about several adult dolphins moving close to the coast. Before this, fishermen say, in 1973 they had witnessed the same phenomenon.
District administration officials informed that Gulf of Mannar marine park and forest department have been asked to look into the matter.
"We have to study the health of the stranded whales and also the eco-system. The study would require the help of oceanographic experts also," Velumani said.
"There could be many reasons...navy sonars could have caused it...or pollution...the reason is not immediately known and we don't want to speculate," Assistant Director of Tuticorin fisheries department, Amal Xavier, said.
In August last year, carcass of a 33-feet-long whale washed up on a beach in Nagapattinam district. Before this in June, a 42-feet-long blue whale was washed ashore near Alibaug in Maharashtra and later died of its injuries.