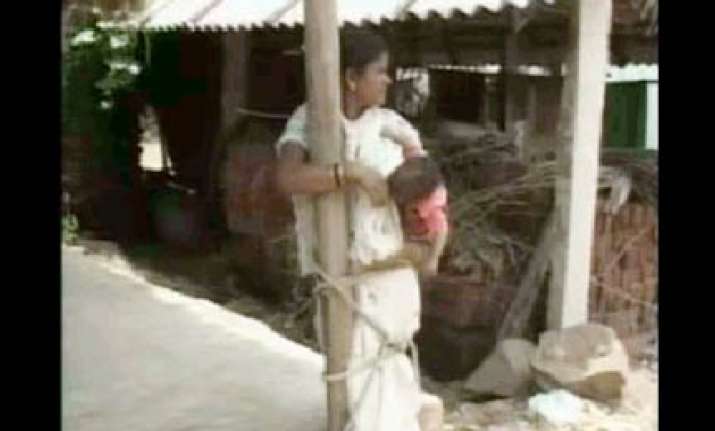 In a shocking incident, villagers of Kusasingha village. located 4 kms from district headquarters of Angul in Orissa, tied up a young Dalit woman Sanju along with her three-year old girl to a pole in the village and tortured her for nearly four hours until media persons reached the spot and rescued the woman and the child. 
Earlier, some villagers set fire to their house.  Fire tenders were brought in to extinguish the fire.
Police said, Ganga Nayak, a Dalit was living in Kusasingha village with his wife Sanju and a small daughter for over past four years. As a number of people use to visit their house, some villagers started making filthy comments about the couple which led to altercations on several occasions. 
Angry over  the couple reporting their harassment to the police, nearly a dozen young men of the village started pelting stones at their house and the harassment continued.  
Some villagers dragged Sanju out of the house with the baby in her arms and tied both of them to a pole in broad day light, even as a large crowd of villagers silently watched, and Sanju pleaded for mercy.
The youths continued tormenting the lady and her child. Finally, some mediapersons reached the village and rescued mother and child.  
Police has not arrested a single person for this incident so far.