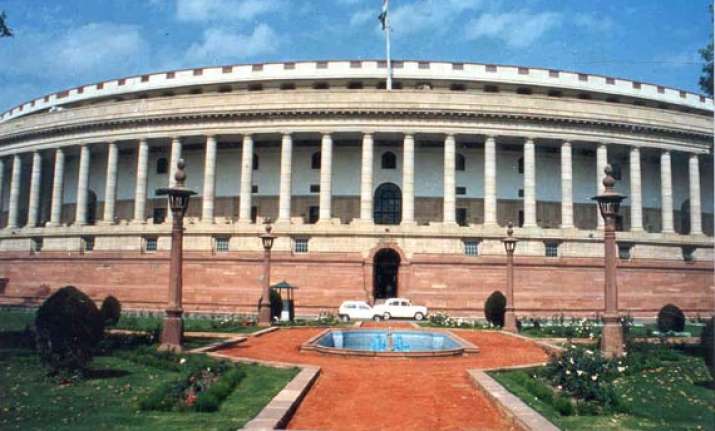 New Delhi, Nov 20: The Winter Session of Parliament beginning Tuesday is expected to be stormy affair with a determined opposition stacking up ammunition against the government on a range of issues including price rise and corruption.

It could be trouble from the beginning for the Congress-led coalition as the Opposition is likely to bring an adjournment motion on the issue of price rise on the first day of the month-long session.

An indication that the Left and the Right could make a common cause on the issue was available with Leader of the Opposition in Lok Sabha Sushma Swaraj noting that the BJP will come to a decision on it after consultations with others opposed to government.

Opposition leaders have suggested a common strategy will be firmed up after tomorrow's meeting of the NDA after which the BJP will discuss floor coordination with other parties.
 
It could also see opposition unity on the issue of corruption in the wake of new reports of the CAG on corruption issues as well as on the 2G case.

With Assembly elections for five states including Uttar Pradesh are scheduled early next year, the session is expected to be overshadowed by the developments in these states. 

Uttar Pradesh Chief Minister Mayawati has already stunned her detractors by coming out with the move of dividing the largest and politically most crucial state into four states, and the development is expected to have its repercussions in Parliament.

MPs from the Telangana region are also on the warpath amid announcements that they would not allow Parliament to function till the demand of separate state is conceded.

The Monsoon session of Parliament had failed to transact much official business despite a heavy agenda in view of disruptions by the opposition on a range of issues including the Lokpal Bill.

Likewise, the Winter session last year was washed away over opposition demand for a JPC into the 2G scam. 

Government managers are admitting in private that they are visualising disruptions throughout the first week. 

A heavy agenda awaits the session as the government has listed as many as 31 bills for consideration and passing including the Judicial Standards and Accountability Bill. 

Among the key bills are the Lokpal Bill, expected to be brought in the last week of the session ending on December 21.
 
The Parliamentary Standing Committee scrutinising the anti-corruption legislation is expected to give its report by the first week of December.

There has been no dearth of issue with Opposition parties coming out with as many as 45 matters they want to be discussed during the session.

Opposition has been demanding specific discussions on making public the list of Indian black money account holders abroad, food inflation, Telangana, farmers suicide, and recent developments in Indo-Pak relations after Prime Minister Manmohan Singh's SAARC visit.

Blockade in Manipur, floods, encephalitis outbreak, Centre-state relations, situation in Kashmir especially after the recent controversy over AFSPA, are some other topics.