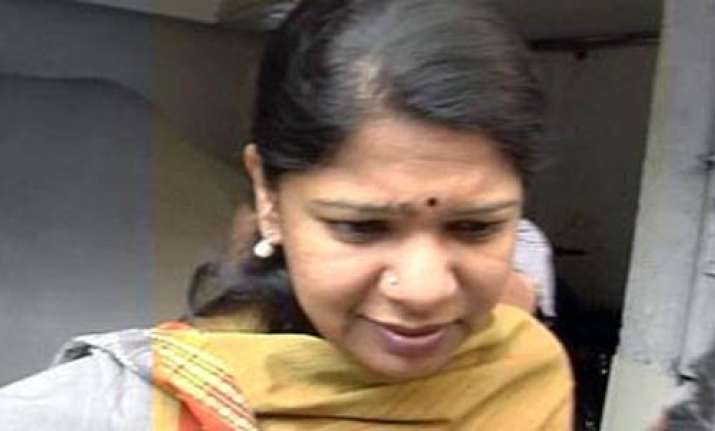 New Delhi, Jun 13: The Supreme Court today sought the CBI's response on DMK MP Kanimozhi's bail plea and also wanted to know the status of Rs 200 crore allegedly given to Kalaignar TV.
Terming corruption as the worst form of "human rights violation", the apex court asked the CBI to estimate loss accrued to the exchequer on account of licences issued to telecom operators during the tenure of A Raja as Telecom minister.
A bench comprising justices B S Chauhan and Swatanter Kumar also asked the investigating agency to inform it about the status of trial in the 2G case before a CBI special court. The court granted a week's time to the CBI to file its response on the bail plea of Kanimozhi and Sharad Kumar, MD  of Kalaignar TV.
Kanimozhi and Kumar, named as accused in the second charge sheet for allegedly taking bribe of Rs 200 crore, were arrested on May 20 after the special court dismissed their bail pleas in the case.
Both Kanimozhi and Kumar have 20 per cent stake each in Kalaignar TV Pvt Ltd, which allegedly received Rs 200 crore through a "circuitous" route from Shahid Balwa promoted DB Realty. The matter has been posted for further hearing on May 20.
Kanimozhi, the 43-year-old daughter of DMK chief M Karunanidhi, and Kumar have approached the Supreme Court against the order of Delhi High Court and the trial court which had refused to grant them bail in 2G case.
The high court had on June 8 dismissed their pleas after observing that they have strong political connections and that there was a possibility of they influencing witnesses.
Karunanidhi's wife Dayalu Ammal, who has been left out from the list of accused, owns the remaining 60 per cent shares in the channel.
Kanimozhi and Kumar had moved the high court on May 23 challenging the trial court's order which had rejected their bail pleas.
Special CBI Court had on May 20 rejected the bail pleas of Kanimozhi and Kumar and ordered their "forthwith" arrest. They are currently lodged in Tihar Jail. PTI