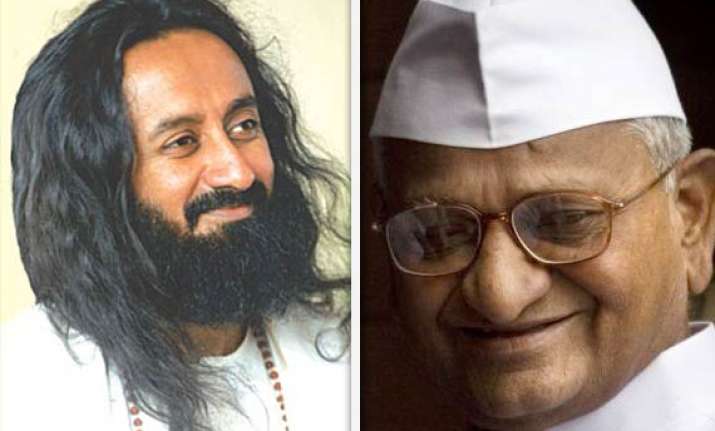 New Delhi, June 18: Spiritual guru Sri Sri Ravi Shankar, who broke Swami Ramdev's nine-day-old fast at a hospital in Dehradun, has said Anna Hazare should not sit on indefinite fast again.

In an interview to Indian Express editor Shekhar Gupta, Sri Sri Ravi Shankar said, he was not a strong votary of fasting as a method of putting one's point across.

Hazare's fast in April had forced the government to constitute a joint committee, comprising representatives from itself and civil society, to draft the Bill. Hazare is threatening to go on another fast from August 16 if a "satisfactory" Bill is not brought in Parliament.

"I would say I am not the one sitting on a long fast...I would say when you have to raise your voice, that's when you have to eat well and speak loud," he said.

He conceded though that if fasting "worked", people should go for it. "But I think life is much more important. When life is there, all accessories can develop around it," he said.

He said other methods to be used included "educating and persuading people". "Make people understand about the wider cause. These are the methods that can be used," he said.

Sri Sri Ravi Shankar has advised Team Anna Hazare to desist from "rubbishing our democracy" or using "unparliamentary language" in public discourse. Instead, he appealed to them to show more flexibility in their approach.

"There should not be unparliamentary words used. I have always told them. I only pity them, who use such language. What are they up to? This mudslinging and using such bad words...they are not going to achieve anything. This is just a drain of energy," Ravishanker said.

Ravishanker has been actively supporting the Anna Hazare-led agitation for a stronger Lokpal Bill but said he was not a strong votary of fasting as a method of putting one's point across.

Ravishanker disagreed that Hazare's fast was akin to blackmail. "I know Anna. He is a very amicable man. He listens. I don't think he is unapproachable or beyond communication."

The Art of Living guru said that deadlines being imposed by the civil society were a result of inordinate delays that invariably happen in government's decision-making.

"I think there should be more flexibility (from the civil society). But the government must not take for ever to resolve issues. Sometimes, commissions are appointed which take several years to give their reports," he said.

On the contentious provisions being discussed in the proposed Lokpal Bill, Ravishanker said he was all for "strong and strict laws" but "no law should be draconian" because they can be misused. He said enacting a new law, though important, was not enough.

"It is social transformation that has to happen. Laws can be there, orders could be passed by the court, but if the people are not aware, it won't help. Transforming society, transforming people's minds and hearts is the most important thing. If that is not there, laws would be lying in the libraries. We need to have a spiritual wave in the country," he said.