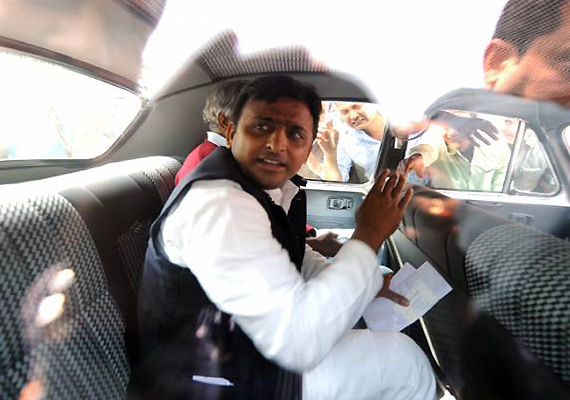 New Delhi, Mar 12: Uttar Pradesh Chief Minister-designate Akhilesh Yadav today said there was no move as of now to form a Third Front and termed his invitation to West Bengal and Tamil Nadu Chief Ministers for his swearing-in ceremony as part of established traditions.  

Akhilesh, who was mobbed by MPs from different parties and the media when he came to Parliament today, denied that his party was in touch with the Left parties and others to establish a Third Front.

Asked if he has started the move towards formation of a Third Front, the Samajwadi Party MP said, "Definitely not, definitely not. Nothing now. I am only meeting with people (leaders)."

The 39-year-old leader, who was accompanied by CPI leader Gurudas Dasgupta outside Parliament House, replied in the negative on a possible tie-up with the Left.

"I am just having tea with them. My responsibility is UP. Uttar Pradesh has to be saved from all wrongs.... We have to implement the party manifesto," he said.

Akhilesh maintained that decisions related to the Third Front would be taken by SP Chief Mulayam Singh Yadav and other national leaders of the party.

"Whatever responsibility is given to me, I will shoulder it," he said.

On the significance of his invitation to Banerjee and Jayalalithaa, he said, "The tradition is that everybody is invited (for the swearing-in). And somebody from the party attends. It is on 15th (of March) which is still some days away."

He was evasive on whether he would pursue his invitation to the two Chief Ministers.

Earlier, Senior Congress leaders met Samajwadi Party chief Mulayam Singh Yadav for help as the Bharatiya Janata Party was ready with its strategy for budget session.

RJD leader Lalu Prasad is playing the role of a mediator between Congress and Samajwadi Party.

The Samajwadi Party gives outside support to the Congress-led UPA government at the Centre, but not in UP.