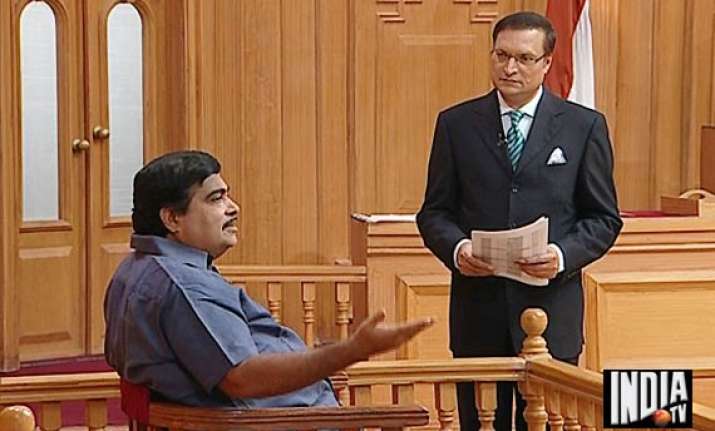 New Delhi, Nov 12: BJP president Nitin Gadkari has said that DMK leader M Karunanidhi's daughter Kanimozhi should now be released on bail.
 
Replying to questions on Rajat Sharma's Aap Ki Adalat show, Gadkari said now that a chargesheet has been filed in the 2G scam, Kanimozhi surely deserved bail.
 
"I am not making a political point. But as far as my legal knowledge goes, once a chargesheet has been filed, the accused should have been granted bail.
 
"I can assure you even our party would not allege that the Congress connived to get Kanimozhi bail."
 
The BJP president went on to allege that the Congress was targeting its alliance partners and political opponents by misusing the CBI.
 
"Except Suresh Kalmadi, not a single Congress leader has been indicted so far. Don't you think Chidambaram is responsible for the 2G scam? The Congress is targeting its alliance partners like DMK, NCP and other political opponents.
 
"I have seen the Commonwealth Games files. There were signatures of the PM, Cabinet Secretary, Group of Ministers and pre-qualification norms were changed. Is Kalmadi alone responsible?
 
"Why was no action taken on V K Shunglu Committee report against Sheila Dikshit? Why was the Lokayukta report against the Delhi minister rejected?", asked Gadkari.
 
Gadkari strongly defended former Karnataka chief minister Yeddyurappa saying he was innocent unless proven guilty by the court.
 
"Tell me what are the corruption charges against him (Yeddyurappa)? He denotified land, but that is the right and privilege of a chief minister, and his predecessors S M Krishna, H D Devegowda, and H D Kumaraswamy had done it, but only he was targeted.
 
"The Lokayukta report said Sajjan Jindal of Jindal Steel Works paid his education institution Rs 10 crore donation, but that is a charitable trust.
 
"Another charge was that the denotified land worth Rs 25 crore was sold at Rs 20 crore. Since the Governor belonged to the Congress party, he immediately gave sanction to prosecute  Yeddyurappa."
 
Asked by Rajat Sharma, why did the party then remove him from chiefministership, Gadkari said, "I had made it a point that all chief ministers  if indicted by a High Court, Supreme Court of Lokayukta must resign. That's why he had to resign.  The matter is now sub judice. It is natural justice that until and unless the court finds him guilty, we cannot label him as corrupt."
 
Gadkari also defended the mining barons Reddy brothers and alleged that the CBI was being misued to target the Reddys.
 
The BJP president said his party can decide its prime ministerial candidate within a minute, but "the right time has not come."
 
He however  ruled himself out of the prime ministerial race and strongly defended Yeddyurappa and the Reddy brothers.
 
"I am not a tyaagi (saint), but I can announce here that I am not in the prime ministerial race either directly or indirectly. I, however wish to contest the Lok Sabha polls, provided my party gives me a ticket."
 
"The time has not yet come to decide BJP's prime ministerial candidate because elections are far off. When the time comes, our party won't take a minute to decide its prime ministerial candidate", said Gadkari.
 
Asked about senior leader L K Advani's prime ministerial ambitions, Gadkari said Advani had merely said that if the party gave him the responsibility, he would be glad to accept it, but the media made a mountain out of a molehill.
 
The BJP president said his party supported and shall continue to support all agitations against corruption and black money.
 
"Swami Ramdev is a renowned saint who teaches yoga science, he has no links with BJP. Sri Sri Ravi Shankar too has no links with our party. Anna Hazare too has no links with BJP, but to say that we are running Anna's agitation is wrong."
 
On Congress leader Digvijay Singh, Gadkari said, he wanted to name him as a "true Gandhian worker" who was trying to fulfil Gandhiji's wish to wind up the Congress party after 1947.
 
The BJP president was however candid to admit that his party suffered from what he called "two tragedies - one, image versus reality, and the other, perception versus ground reality".
 
"On the other hand, Congress", he said, "is a proprietary concern, where even Manmohan Singh, Chidambaram or Pranab Mukherjee cannot dream to become the party president. It's all Madam's wish: if she says start, start, and stop, stop."
 
Gadkari lashed out at Rahul Gandhi saying "his only qualification is that he is the son of Rajiv and Sonia Gandhi."
 
When Rajat Sharma pointed out that Rahul had been winning consistently by huge margins, Gadkari said: "Even Phoolan Devi won elections".
 
Gadkari also had an advice for Prime Minister Manmohan Singh. "Whenever you ask him about the 2G scam, or CWG scam, he says he had no knowledge. If he doesn't know what's happening in his government, then it's better that he goes to the Golden Temple in Amritsar, or to Haridwar and Rishikesh and spend the rest of his life doing kirtans and bhajans in peace."
 
Rajat Sharma's Aap Ki Adalat show will be telecast on India TV  on Saturday (Nov 12) at 10 pm and  Sunday (Nov 13) at 10 am and 10 pm.