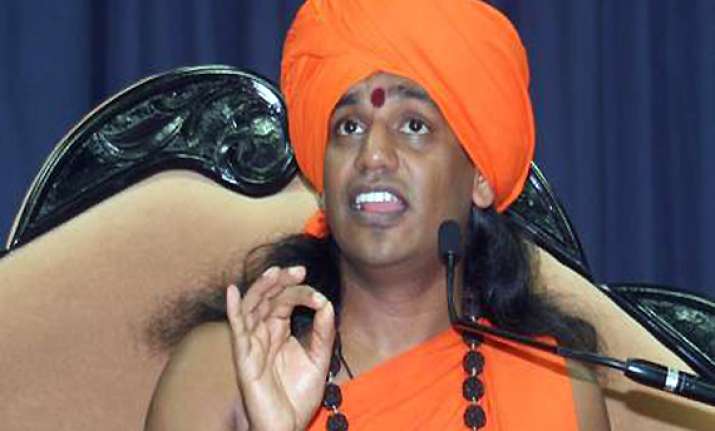 Ramanagar, June 14: Just hours after being granted bail by a court here, controversial self-styled godman Nithyananda was re-arrested today and remanded to one-day judicial custody on charges of disturbing the peace.
Nithyananda, arrested yesterday after he appeared before a court to surrender in an assault case, was slapped with a fresh case of disturbing the peace in Ramanagara and surrounding areas of Nithyananda Ashram at Bidadi near here.
He was arrested under different IPC Sections, including 151 (relating to disturbance of the public peace) and sent to one-day judicial custody, Ramanagara Superintendent of Police Anupam Agarwal told PTI.
Agarwal said Nithyananda would be taken to Mysore Central Prison to avoid any untoward incidents and added that the case would be heard tomorrow and the Deputy Commissioner would take a further decision in the matter.
"Nithyananda has been exempted from personally attending the court. However, his lawyer will appear for him tomorrow," Agarwal said.
Earlier in the day, Ramanagara Judicial First Class Magistrate Komala granted bail to Nithyananda subject to him furnishing one surety and a personal bond of Rs 50,000.
Public Prosecutor K Mohan Kumar said bail had been granted to Nithyananda since assault and life threat case against him were bailable.
The self-styled godman, already facing criminal charges, including rape and out on bail after his arrest in 2010, courted fresh trouble when police on June 8 booked him and his followers for allegedly assaulting a mediaperson at a press conference at his ashram at nearby Bidadi.
Even as he faced the police action, Nithyananda filed a writ petition in the High Court seeking Rs 10 crore as damages to his ashram property from the state government.
Chief Minister D V Sadananda, Ramanagar District Deputy Commissioner and others have been named in the petition.