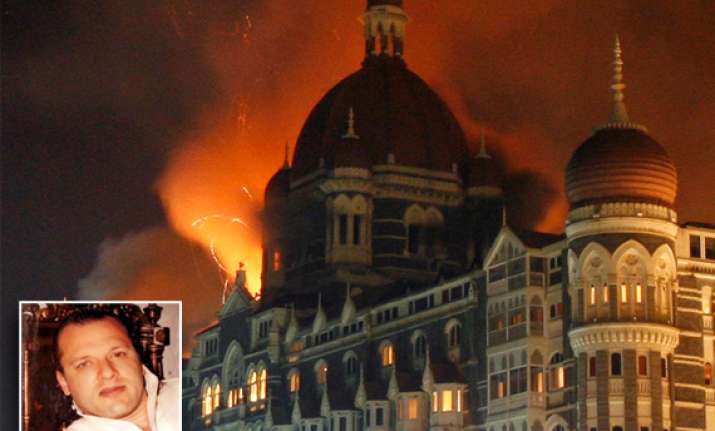 New Delhi, Dec 24: Two years after his role in terror activities surfaced, the National Investigation Agency today charge sheeted LeT operative David Headley, Lashkar founder Hafiz Saeed and two ISI officers for plotting terror attacks in India including the 26/11 strikes.

The charge sheet was filed in a special court in Patiala House here which also names 26/11 attack mastermind Zaki-ur-Rehman Lakhvi, Headley's accomplice and Pakistani-Canadian Tahawwur Rana and al-Qaeda operative Illyas Kashmiri for waging war against the country and other relevant sections of Unlawful Activities (Prevention) Act, official sources said here.

Sajid Malik, handler of Headley, and Abdul Rehman Hashmi, former Pakistani Army officer were also named in the charge sheet besides two officers Major Iqbal and Major Samir Ali, believed to be working for Pakistan's snooping agency, the sources said.

The charge sheet was filed three days after the Centre gave sanction to prosecute all the nine after being convinced of their role in planning terror strikes in India.

The NIA had registered a case against 50-year-old Pakistani-American Headley and Rana on November 12, 2009 and later on added other names after investigation by central security agencies showed a large set of people involved in terror activities against the country.

Both Headley and Rana are at present in custody of US authorities and NIA has only got a limited access to Headley, who had entered into plea bargain with US authorities to escape harsh sentence.

According to the charge sheet, the NIA initially registered a case relating to the larger conspiracy of LeT and Harkat-ul-Jehadi Islami to organise spectacular terrorist attacks on places of iconic importance in India. The case was originally registered against two named accused Headley and Rana and other unknown persons.

During the course of investigation, more than 300 witnesses were examined and evidence was collected from several sources such as banks, hotels, airlines, Internet service providers and telephone service providers.

The investigation of the case presented unique challenges, because all the accused persons were foreign nationals - seven being Pakistani citizens and two being citizens of US and Canada.

The conspiracy was hatched in or around 2005 by the leaders of LeT and HUJI such as Hafiz Saeed, Zaki-ur-Rehman Lakhvi, Ilyas Kashmiri with active support and encouragement from serving officers of the Pakistani Army working for the ISI, such as Major Sameer Ali and Major Iqbal, to organise spectacular terrorist attacks on sensitive iconic targets in India over a long period of time, the charge sheet said.

Headley and Rana, both members of LeT, were placed in a position where they could work for providing tactical, material and financial support in planning and carrying out terrorist attacks in India and other places.

While Headley had the advantage of Caucasian looks, American upbringing and accent and American citizenship, Rana, a Canadian citizen and Pakistani Army deserter, had the benefit of a network which he had developed while running an office and doing business for an immigration consultancy in Chicago, USA.

Both Headley and Rana had passed out from the Hassan Abdal Military College in Pakistan and both wanted to participate in Jihad against India and Western powers.

Born in the US to an American mother and Pakistani father, Headley did his primary and higher school studies in Pakistan and went back at the age of 17 to live with his mother in the US, who was engaged in the business of running a bar.

He was repeatedly arrested and imprisoned for being involved in contraband drugs smuggling. He came back to Pakistan and joined LeT after being persuaded by Saeed.