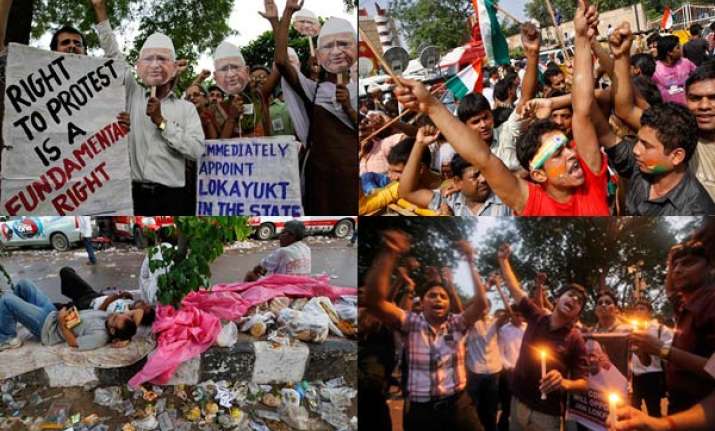 New Delhi/Mumbai/Lucknow/Indore, Aug 18: The nationwide protests in support of the fasting Gandhian leader Anna Hazare have snowballed on the third day with people forming human chains, staging sit-ins, resorting to flash strikes and holding candle light marches. 

The famous dabbawallahs of Mumbai have appealed to people to avoid calling for their lunchboxes to office on friday, as they would be going on a day's strike, and would be taking out a morcha (procession0 from Churchgate to Azad Maidan.

In Indore, supports of Anna Hazare formed human chains, while students, professors and employees of Lucknow University came out to stage a dharna in support of the rights activist.

In Ahmedabad, women and children came out with empty buckets, as they came to know that Anna Hazare was not getting water inside Tihar jail campus.

Singer Kailash Kher and Little Champs singers will be taking part in the fast scheduled to begin at Delhi's Ramlila Maidan later in the day, a youth co-ordinator for India Against Corruption said

Anna's supporters toook out a bike rally in Jaipur, while activists thronged the Azad Maidan in Mumbai for the third straight day.

Rallies and dharnas in support of Hazare continued to be organised in other parts of Maharashtra, his home state.

On Wednesday night, Pune saw motor-cycle rallies and sit-ins in support of Hazare with a spontaneous participation of youth. Candle light marches were taken out by children who walked on the streets raising slogans of `Vande Mataram'.

The Balgandharv square, the focal point of `jail bharo' agitation , remained crowded with college youths staging a day-long dharna and shouting pro-Hazare slogans demanding introduction of Jan Lokpal Bill.

All the eight districts of Marathwada region in central Maharashtra also witnessed huge support for the jailed anti-corruption crusader.

Members of Aurangabad Samajik Manch organised a protest against the Congress-led UPA Government near the Gandhi statue in Aurangabad.

In Latur, the college students gathered on the streets to express their support for the Gandhian. BJP student wing, Akhil Bhartiya Vidhyarthi Parishad, staged a demonstration against the Manmohan Singh Government.

Police sources said more than 60 activists were detained in Latur and released in the evening. Youths took out processions in support of Hazare in Parbhani, Nanded, Hingoli, Beed, Osmanabad and Jalna districts.

Opposition parties, including BJP, JD (Secular) and MNS, and organisations like Akhil Bhartiya Maratha Mahasangh besides advocates and college teachers took to streets in the region to express solidarity with Hazare.
Allahabad : Judicial work was paralysed at the Allahabad High Court on Thursday as lawyers blocked entry into the premises and staged demonstrations in support of jailed social activist Anna Hazare.

The lawyers, led by High Court Bar Association (HCBA) President Umesh Narain Sharma gathered around the High Court premises, raising slogans against the arrest of Hazare two days ago.

The advocates termed the government's move as "repression of a peaceful struggle against corruption which is enjoying country-wide support".
Some of the agitators squatted at the gates of the High Court, blocking entry of visitors, including other court staff and employees of a bank situated inside the premises. Similar demonstrations were being taken out in other parts of the city, including the busy Civil Lines crossing and the historic Chandrashekhar Azad Park by students, civil rights groups and common citizens.

Jaipur : Major markets in the pink city remained closed for half day today in support of anti-corruption crusader Anna Hazare.The half-day bandh call given by the local traders' body and different social groups evoked good response, officials said.

The entire market area inside the walled city remained closed till noon and traders and their family members came out on streets in Hazare's support.Holding flags, children, women and men shouted slogans and walked through every market in form of a rally which started from Badi Chaupad and covered every area, including famous Johri Bazar, Nehru Bazar, Bapu Bazar, Kishanpol Bazar and other markers inside the walled city.

"The rally of traders covered 17 markets. It was a half day shut down till noon," said Anand Meherwal, a representative of the traders body.Various other groups in different parts of the city were also seen taking out march and holding peaceful protests against corruption and in support of Anna Hazare. Laxman Singh, a representative of'Jago Janta Society' said that their relay strike continued at the Ambedkar circle. Several schools also supported the bandh and students were sent back home in recess.

Soni, Jaipur Police Commissioner, said that additional police personnel were deployed in the city in view of security and no untoward incident took place during bandh and protest."The protest is going on at different locations in the city in peaceful manner. Everything is in order and there is no report of any untoward incident from anywhere so far," he said.