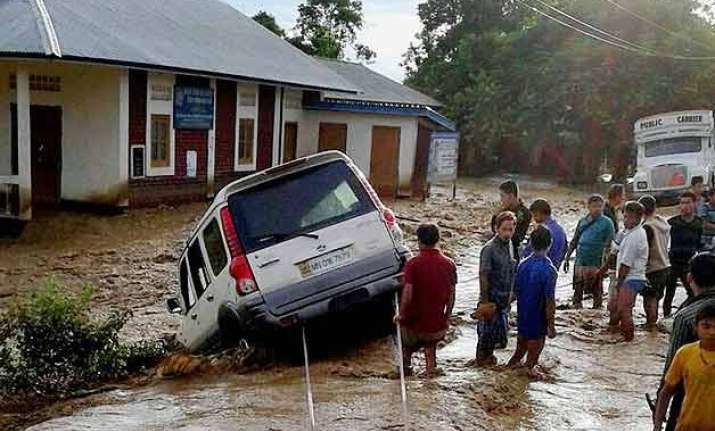 New Delhi:  More than 180 people have lost their lives and nearly one crore people were affected in floods in West Bengal, Gujarat, Rajasthan and Odisha.  
The toll is the highest in West Bengal where 69 people have died so far in flood-related incidents that include lightening, wall collapse, electrocution and drowning.  A total of 2,213 relief camps have been set up for about 50 lakh affected people and 234 boats deployed for rescue and relief operations.
Home Minister Rajnath Singh has spoken to West Bengal Chief Minister Mamata Banerjee and enquired about the rescue and relief operations in the wake of floods.  He assured her of full central support to deal with the situation.
In Gujarat, 71 people have lost their lives due to floods in 14 districts where 40 lakh population was affected. More than ten lakh food packets have been airdropped or distributed to flood victims.
In Rajasthan, 38 deaths have been reported during the past few days owing to very heavy rainfall and floods in many parts of the state.
More than 630 people have been rescued from various districts in Rajasthan. Relief materials have been distributed to the affected population.  In Odisha, 4,80,399 people were affected by the floods which so far claimed five lives. 1574 peoples have been evacuated to safer places by rescue and relief teams.  Seven relief camps have been set up and 132 boats pressed into service for rescue operations.
The Union Home Minister Singh spoke to Odisha Chief Minister Naveen Patnaik and reviewed the flood situation in the state.