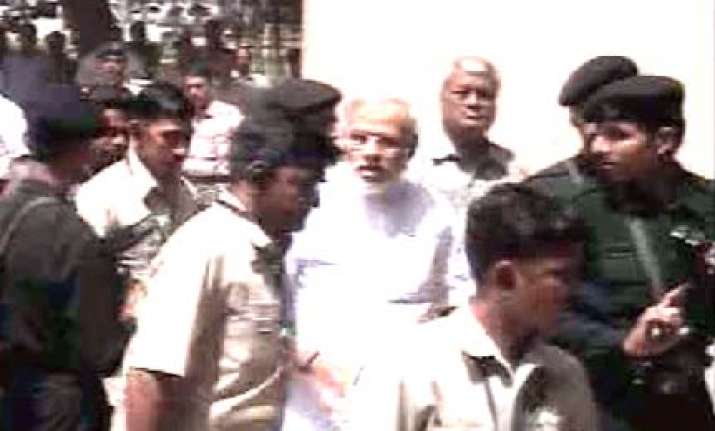 For the first time since the riots in Gujarat eight years ago, state Chief Minister Narendra Modi on Saturday subjected himself to questioning by the Supreme Court-appointed SIT in two sessions, including one lasting for over five hours.
The controversial BJP leader, who faces allegations of omission and commission with regard to the mob attack on a housing society in which a former Congress MP Ehsan Jafri and 68 others were killed, drove to the SIT office in the heart of Gandhinagar where he was questioned by a team of officers headed by A K Malhotra, a former CBI DIG.
 After a marathon session lasting over five hours from 12 noon to a little past 5 PM, Modi left the SIT office telling reporters that he would come back in the evening. 
Late night, Modi returned to the SIT office for further questioning because he was keen that the entire exercise be completed today itself. Though there was no official word on the questioning, Modi is said to have replied to 62 of the 68 questions put to him in the first session.Modi claimed he had anwsered all questions put by SIT and that he would prefer questioning to end in one day.
"Vistaar se batcheet ki (we spoke in detail)," he said adding "under the Indian constitution, law is supreme. As a common man, CM, I am bound by the Indian constitution and law. No one can be above the law."  This was the first time that Modi was probed since the carnage eight years back. 
 After the first round of questioning, a smiling Modi emerged from the SIT office at the old secretariat building and told mediapersons that "I am taking a break from questioning". SIT Chief R K Raghavan was not present in his office when Modi appeared in the first session in response to the panel's summons. 
Modi became the first chief minister of any state to be questioned in a criminal complaint of mass murder after he and his  administration were accused of aiding and abetting riots in one area in Ahmedabad.
Ending the suspense as to where and when he would appear after he was summoned  for questioning in connection with a complaint of Zakia Jafry, widow of Eshan Jafry, Modi reached the SIT office at around noon. 
The complaint filed by Zakia among other things alleged there was a wider conspiracy by Modi and his administration and that he had instructed officers not to take action.
"My appearance here is a "karara jawab"  (fitting reply) to my detractors. I have given a resounding reply to those who doubted my intentions. I hope such talks by vested interests will stop," Modi said. 
Modi injected some humour in his interaction with reporters saying he has come to give them "some masala". When asked whether he was given tea, he tried to impress the media saying he had made arrangements for beverages to be served to them. He also said that he wanted to given some time to SIT to do some "homework" before the resumption of questioning. Attempting to take a high moral ground, Modi said the SIT probe is impartial and does not have any Gujarat officer. PTI