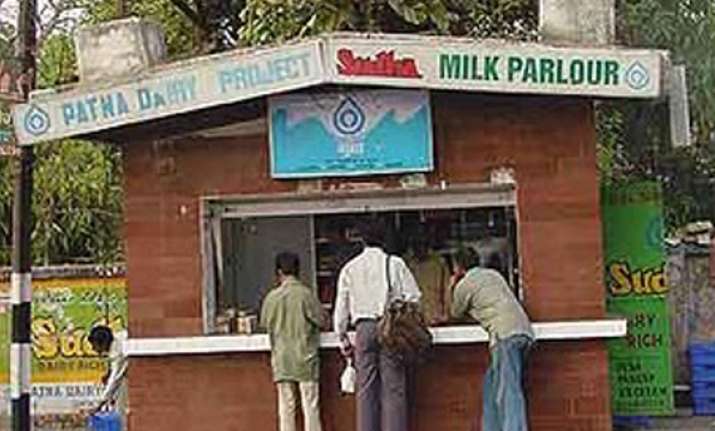 Patna, Apr 14: People in Patna will have to pay more for  milk supplied by Sudha dairy from today. The decision was taken at a meeting of milk producers and officials of COMPFED.
Milk consumers would now have to pay Rs 2 more per litre for double toned milk (Slim), toned milk (Healthy), cow milk and standard milk (Shakti).
However, consumers would have to pay Rs 3 extra per litre for full cream milk (Gold).
From today,  Slim would be sold at Rs 26 per litre, Healthy at Rs 28, cow milk at Rs 29 and Shakti at Rs 31. Full cream milk (Gold) would cost Rs 35 per litre.
In Jharkhand, the prices of double toned milk, toned milk, cow milk and standard milk have already been hiked by Rs 2 per litre, a Bihar State Milk Cooperative Federation Ltd release said .  
"Increase in procurement, packaging, labour and transportation costs have forced Compfed to increase the prices of standard (full cream) and pasteurised (toned) milk. The new prices will come into effect from tomorrow," said Ashok Pandey, the co-operative's Jharkhand in charge.
Chief manager of Compfed A.K. Kulkarni  said they were also trying to safeguard the interest of milk producers.
"We are a co-operative and there is no hidden agenda. We decided to hike prices by Rs 2 per litre on all forms of milk so that the same per cent can be given to milk producers. Earlier, we paid them Rs 19 per litre; from April 14, we will pay them Rs 21 per litre, a raise of around four per cent hike, to help them tide over inflation," he said. 
Sudha Dairy supplies around 300,000 litres of milk across Jharkhand, with its customer count highest in Ranchi, Jamshedpur, Dhanbad and Bokaro. It has three processing plants — one each in Ranchi, Bokaro and Adityapur near Jamshedpur. 
While the unit in Ranchi processes and packs over 100,000 litres a day, the one in Bokaro has a capacity of 70,000 litres. The Adityapur plant has the highest processing and packaging capacity of 1.3 lakh litres a day.
The dairy units also prepare a host of milk products such as ghee, butter, peda, milkcake, paneer and lassi. Kulkarni hinted that these products too would become dearer. "We have to increase prices of milk products to remain in the market," he said, refusing to divulge exact dates.
This is  the fourth hike in  milk price in  a year. In February  last year, prices were raised twice, by Rs 1.50 and 50 paise. Again during the September festive season, Compfed hiked milk coats by Rs 3.