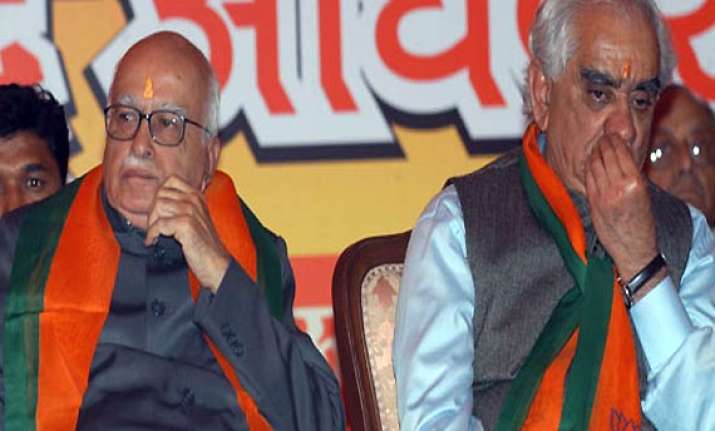 New Delhi, Nov 17: Claiming that the country is moving towards mid-term elections, BJP leader Jaswant Singh today said there is no dispute within the party on the leadership issue and L K Advani is the unanimous choice for Prime Minister's post.

Asked if BJP has been able to present itself as an alternative, Singh told PTI-Bhasha, "Definitely, BJP is the choice of the people. And as far as the question of leadership in the party is concerned, Advani is our topmost leader...  There is neither any doubt nor any dispute on this issue."

On his choice for Prime Minister in the party, he said, "My choice is Advani."
 
In reply to a question on the issue of his not enjoying the same stature after his return to the party as he did before, he said, "I have nothing to do with this. I was invited to the party. I came back on the invitation of Advani and (party president) Gadkari. This was not a give-and-take deal."

Singh expressed concern over the current political situation in the country.

"It is the government's functioning that creates issues. In this scenario, the kind of political landscape that is emerging is extremely sad. The anger of the people due to government's inactivity and corruption is boiling over," Singh said claiming that the "country is headed for mid-term polls."

The BJP MP maintained that such a situation had not emerged ever in the country in the last 60 years.

"Such a feeling of gloom did not grip the people even during the Emergency days.... It would be in the interest of democracy and the country if we go to the people and ask for solutions," Singh said.

He denied that BJP is not emerging as a strong alternative, saying "BJP is going well though it will have to once again build up NDA. The party's effort should be to bring all parties together."

Asked about parties which were in NDA when it was in power but have now abandoned it, Singh said in politics the time and situation determines everything and maintained that under Atal Bihari Vajpayee's leadership there were 23 parties within the coalition but most of them had joined it after the polls.

He alleged that the Congress-led UPA government is in such a position that it cannot be revived.

"On all international, internal and economic issues, the Congress-led Central government has been in an inactive and indecisive state," Singh said.