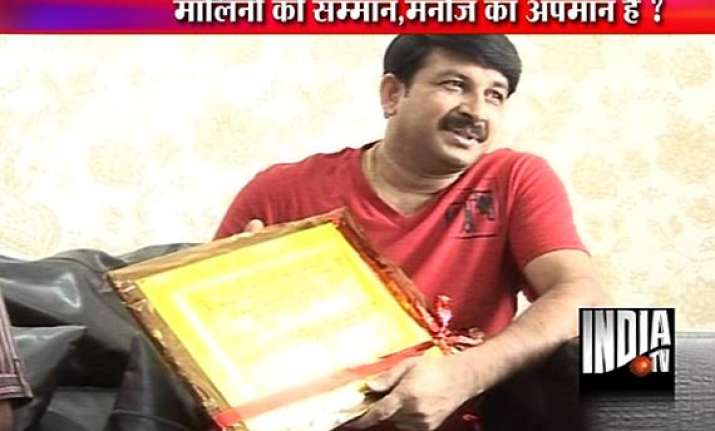 Patna: Upset over appointment of folk singer Malini Awasthi as Brand Ambassador of Bhojpuri Academy, noted singer-actor Manoj Tiwari today said he would return the honour given to him by the Governor at International Bhojpuri conference.
Expressing his annoyance over Awasthi's selection, Tiwari announced to return the honour at a press conference here and claimed another Bhojpuri singer Bharat Sharma would also return the honour along with him.
Bihar Governor D Y Patil had honoured Tiwari, Sharma and others at International Bhojpuri conference here on July 21 which had representation from more than six countries including Australia, England, Oman, Nepal, Mauritius and Singapore.
The Bhojpuri singer and actor alleged that Awasthi is an Avadhi singer and it was wrong to appoint her as Ambassador to promote Bhojpuri language.
"Why Sharda Sinha, Bharat Sharma or actor Ravi Kishan who have contributed tremendously for promotion of Bhojpuri are ignored and artiste of another language was chosen," Tiwari told reporters.
He said Awasthi's appointment is an insult to artistes like him who have rendered valuable services for promotion of the language across the world.
More than 25 crore people in 20 countries speak Bhojpuri.
Bihar Bhojpuri Academy President R K Dubey, however, trashed Tiwari allegations and justified Awasthi's selection.
"Through her art and manner Awasthi will be able to spread reach of Bhojpuri world over," Dubey told PTI.
He said Sharda Sinha herself congratulated Awasthi over selection as brand ambassador.
Dubey charged Tiwari with trying to come close to BJP to contest the coming Parliamentary election from Buxar and "as part of this he is raising controversy to put Nitish Kumar government in poor light."