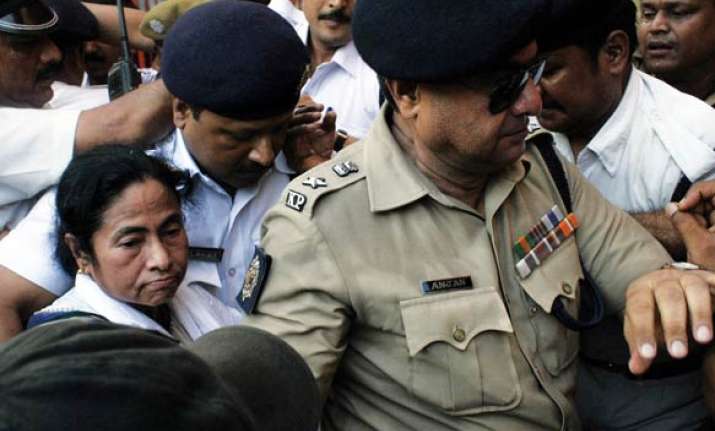 Kolkata, Jul 6 :  West Bengal chief minister  Mamata Banerjee   has instructed Kolkata Police not to bother about her security any more, reports Times of India.
 
A senior official at Writers' Buildings said, "Madam has instructed Kolkata police not to bother with her security paraphernalia. So, they don't need to follow her convoy any more. The new chief minister has sent specific instructions that there is no need to post policemen (officers-in-charge and traffic sergeants) on her convoy route. Thus, there is no wireless intimation of madam's whereabouts anymore."

For the last  34  years, Kolkata Police used to address the CM as Charlie Mike on its wireless. This has now ceased.

For the last  three decades,  traffic policemen on CM's convoy duty have been on their toes every time the chief minister hit the road. Moments before he actually took the car, wireless sets would be agog with messages on Charlie Mike.
 Ever since chief minister Buddhadeb Bhattacharjee's security was elevated to Z-plus, "Charlie Mike" had assumed  significance.

Peter, Tiger, Peacock—one does wonder which secret service clerk or super sleuth had thought about these code names for the highest dignitaries of the land. The fact that they are so generic, leaving nothing to imagination and could as well be names of pets, makes them mysterious and a source of allure.

Even as the new chief minister didn't wish to be cordoned at all, and would rather have men in khaki hanging around, just for the sake of it, Mamata Banerjee has chosen RPF and SB to look after her security. Still, Kolkata police is always in the know about her movement.

"We have to refer to her as VVIP these days, because Charlie Mike no longer exists," said a police official. But then, VVIP could also stand for any other
"VVIP" in the state or for that matter, somebody from other states. The police are, in fact, looking for a code outside the wireless norms. In wireless, the code has been fixed at alpha, beta, charlie .... peter etc. Since the new chief minister has refused to be within the wireless radar, we could think of a new code for her," said an official.

But then, the departure of Charlie Mike comes at a time when Kolkata police were contemplating changes in wireless police jargons, on the lines of recommendations made by the Union ministry of home affairs (MHA).

The recommendations include Lima I for chief minister, Eagle for governor, and Papa Mike for the Prime Minister when he visits the city. There are talks of new code words like Stag I and Swan 1, 2, 3.