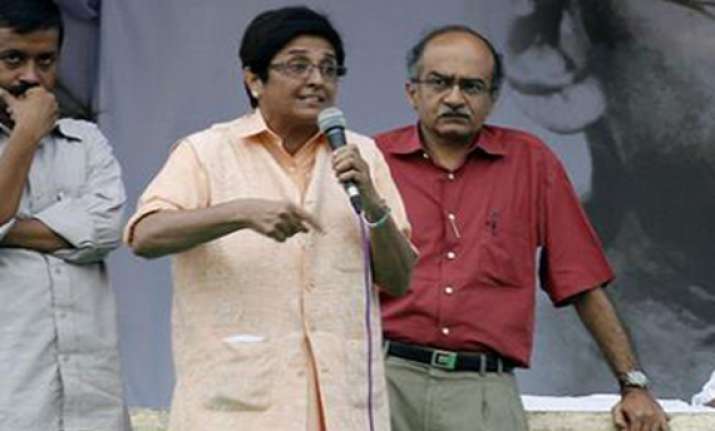 New Delhi, Oct 20: Senior Team Anna member Kiran Bedi on Thursday rejected an Indian Express news report which stated that she travelled by Economy class, but charged Business class from organisers. 
 
Bedi said, she did not take a single penny saved from such air travels for her own pecuniary benefit, but used the money thus saved for her NGO.
 
Addressing a press conference, a slightly tense-looking Bedi said, I have faced many a challenge in my life, and this is one more challenge. 'I have informed Anna Hazareji through his PA and also talked to Arvind Kejriwal this morning about this report', she said.
 
Anna Hazare is expected to give his formal reaction in writing by Thursday evening, his PA told mediapersons.
 
Bedi said, whenever I go to any such event, I let the organisers know that I have travelled by economy even if they have sent business class tickets. The organisers know this and they appreciate saving of money for my NGO, she added.
 
The invitations go to the foundation, the cheques go to the foundation, and the savings thus accrued goes to the foundation, Bedi said.
 
The former IPS officer said, she did not attribute any motive to the publication of this report, and  she was ready to face any probe.
 
To say that I claim business class is wrong, as it is not reimbursement. The money is paid directly by the organisers to the travel agent, she said.
 
Bedi told PTI, "business class travel is part of the invitation/entitlement from the event organizers/corporates I'm asked to speak at. Travelling economy is a choice despite entitlement is to ensure that savings remain with the NGO.

"(There is) no personal gain here. Sorry to disappoint  detractors trying real hard to find a smoking gun. However, I accept this kind of coverage as a part of the challenges which being in public life poses," she said adding the money "saved" went to NGO India Vision Foundation run by her.

Team Anna has been turmoil in the recent days following Hazare's flipflop over Prashant Bhushan's advocacy of plebiscite in Jammu and Kashmir and resignation of two prominent Core Committee members P V Rajagopal and Rajinder Singh complaining that decisions were not being taken democratically.

There was also dissention in the team regarding the move to launch an anti-Congress campaign in Hisar bypolls and upcoming Assembly elections without proper discussion in the Core Committee.

"I have nothing to hide. Whatever money came from the organisers of functions, it went to the institution," Bedi said adding she was "not a beneficiary" in this case as all the money she got went into her NGOs.

"I get a lot of money through my lectures and royalty on books. I donate it to the NGOs," she later told reporters.
She also claimed that she herself downgraded her travel and even organisers knew about it.
 
"The person is aware that I am downgrading my travel. Organisers appreciate it. They say we appreciate your gesture that you have saved money for the Foundation."

Bedi said the institutions itself offer business class fare to her for attending their functions.

"When the invitation comes I take a decision whether I travel business class or I downgrade myself. I sometimes choose to do so and travel in economy class. The money so saved by travelling economy goes to the Foundation.

"There is no money which I withdraw. The invitation is to Foundation, the cheque is to the Foundation, the withdrawal is from the Foundation and saved money is in Foundation," she said.

She also said when some NGOs invite her and they cannot afford, then she travels to them using the Foundation money.
 
In recent weeks, sharp divisions have surfaced among Team Anna members. Some members were taken by surprise on Hazare's stand that the Core Committee will decide on the continuance in the team of Prashant Bhushan, who created a controversy by advocating plebiscite in Jammu and Kashmir.

Hazare has also tweaked his campaign against Congress, saying he will work with Congress across the country if the UPA government brings a strong Lokpal Bill in the Winter session of Parliament and keeps its words on other reforms.

The Gandhian has also decided to wait till the end of Winter Session to embark on a 'yatra' in Uttar Pradesh, contrary to the earlier decision of hitting the streets against Congress in the state soon after Dusshera.