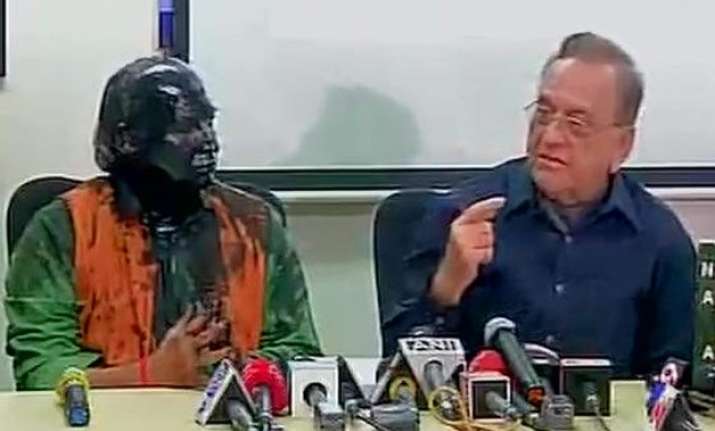 New Delhi: Former Pakistan foreign minister Khurshid Mahmud Kasuri today said that he was not depressed by the protest of Shiv Sena activists who threw ink at Sudheendra Kulkarni, chairman of Observer and Research Foundation (ORF).
"I have been a political worker myself, I understand political protests, but it should be in a peaceful manner. I am not depressed by things like these, I know there are people in Pak & India who do not want good relations between two nations," he said.
"Overwhelming majority of people in Pak want good relations with India, Ordinary people in Pak want good relations with India," he added.
Kasuri's reaction came soon after Shiv Sena activists smeared black ink on the face of Kulkarni for organising former Pakistan foreign minister's book launch.
Kasuri further noted that strengthening relation between India and Pakistan will be in interest of both the nations.
"In 2004 we wanted BJP to win because we had made good progress in talks with Vajpayee ji and Brajesh Mishra ji," he said.
On Hafiz Saeed's release, Kasuri said, "The Pakistan government had arrested Hafiz Saeed. It was the court which granted him bail."
"Neither was I a minister during Kargill and nor was I a minister during 26/11," he further said.
Meanwhile, undeterred by the attack, Kulkarni said that the book launch event will continue as scheduled.
"We won't be cowed down by such events and the book launch will happen as planned," he said.
Kasuri is scheduled to attend the launch of his book 'Neither a Hawk nor a Dove: An Insider's Account of Pakistan's Foreign Policy' in Mumbai. Sena had demanded that the event be scrapped and had threatened to disrupt it.
The Sena, which shares power with the BJP in Maharashtra, has written to the director of Worli's Nehru Centre, the launch venue, to cancel the event because of the Pakistan connection.