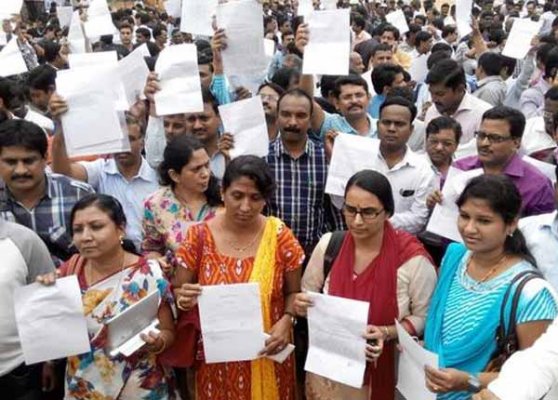 Bangalore: About 2,600 government doctors, including specialists, across Karnataka on Wednesday agreed to withdraw their resignation letters and call off their protest following assurances by the state government that their demands will be fulfilled soon.
"As the Chief Minister Siddaramaiah assured us to fulfill most of our demands, we have directed our members to withdraw their resignations and call off the strike," Karnataka State Government Medical Officers' Association president TA Veerabhadraiah told reporters here.
Advising the agitated doctors to resolve their problems through talks and avoid extreme means to seek their demands, the Chief Minister told the association's representatives that delay in disbursal of salaries through local bodies would be rectified soon.
"We will also consider their (doctors') demand for enhancing the salaries after studying the models adopted in other states," Health Minister UT Khader told reporters after the two-hour meeting between the chief minister and the association.
Regretting the inconvenience caused to thousands of patients across the state since Monday when doctors and nurses working in state-run hospitals resorted to strike, Veerabhadraiah said the association would give the government reasonable time to implement the assurances the Chief Minister gave them.
"We have agreed to call off the three-day strike unconditionally after the Chief Minister sought some time to implement the assurances," Veerabhadraiah said.
Among the 14 demands, the government agreed to appoint new doctors through the Karnataka Public Service Commission (KPSC), pay salaries in the first week of every month, promote resident doctors as surgeons and regularise service of doctors working on contract basis.
"We will do our best to fill up as many vacancies as possible, keeping in view the budgetary constraints this fiscal (2014-15)," Khader added.