Follow us on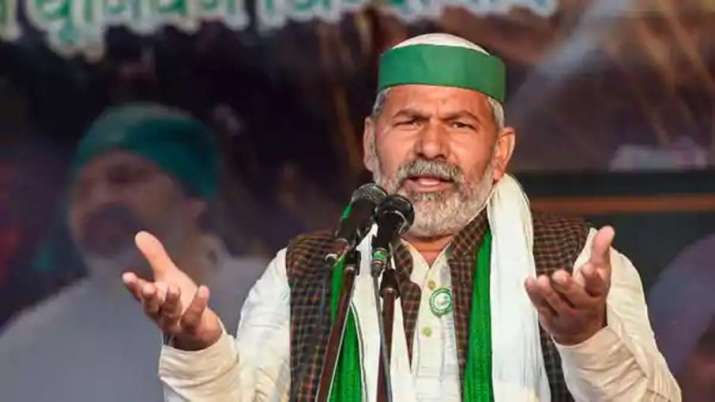 We have nothing against the Haryana government but the Centre, which is adamant in not repealing the controversial three farm laws, said farmer leader Rakesh Tikait in an exclusive conversation with India TV.
Rakesh Tikait along with hundreds of farmers have been protesting in Karnal demanding the state administration to take action against the IAS officer who ordered a lathi charge on protesters on August 28.
Rakesh Tikait with other farmer organisations has been protesting against the Centre demanding repealing of three new farm laws, however, even after several rounds of talks over the past many months and other efforts from the government, the issues remain inconclusive.
In a bid to build more pressure on the Centre, farmers have been protesting and organising mahapanchayats in various parts of the country. One such mahapanchayat was held on September 5 in Uttar Pradesh's Muzaffarnagar.
Now, following the mass gathering, Rakesh Tikait is now pulled into a controversy over slogans of 'Allahu Akbar' which were raised during the mahapanchayat held in Muzaffarnagar with people targeting him on social media platforms.
Giving a clarification over these slogans, Rakesh Tikait asked whether saying 'Allahu Akbar' or 'Har Har Mahadev' is banned in the country? He told that for the last 4-5 days people are calling him and abusing him.
He continued and questioned, "Allahu Akbar kehna or har har mahadev kehna are banned in the country? Those who are making our statement clips viral on social media, have also shared our phone numbers. And they have said that the number belongs to Rakesh Tikait asking others to call us and say the same words. People have been abusing us for the past 4-5 days as we are receiving over 400 calls in a day".
Rakesh Tikait further said, "On the phone they abuse and say why did you say 'Allahu Akbar', why did you say 'Har Har Mahadev'".
He further mentioned, "Even during Tikait Saab (Rakesh Tikait's father Mahendra Singh Tikait) time, these slogans were used when if one side used to say 'Har Har Mahadev', the crowd had to say 'Allahu Akbar' and when we used to say 'Allahu Akbar' then the crowd would say 'Har Har Mahadev'".
Further speaking on police action, lathi charge against protesters, Rakesh Tikait demanded, "a case should also be registered against the government official, there is no dispute with the police officials."
The farmer leader also rejected reports of stone-pelting, blocking roads during the August 28 protest.
Speaking further on the matter, Rakesh Tikait said that it seems that there could be some understanding between the Haryana government and the Centre to shift the farmers protest from Delhi borders to somewhere in Haryana.
Focussing on their demand of repealing the farm laws, Rakesh Tikait asked how come warehouses were constructed in the country even before the new laws were passed in the Parliament.
Tikait also targeted that Centre over employment saying that the government promised 2 crore jobs in a year, but where are those jobs.     
ALSO READ | Karnal: Farmers continue sit-in protest after talks fail, ban on mobile internet services extended
Earlier in the day, a meeting of farm leaders with local administration in Karnal ended inconclusively with protesting farmers demanding action against SDM Ayush Sinha and an independent inquiry in the matter.
Tikait, activist Yogendra Yadav were among the 13 representatives participating in the meeting with district administration officials.
Before going for the meeting, Rakesh Tikait said, the Khattar government is conspiring to limit the farm agitation to Karnal, which will not be successful. He said the farm protests at borders of Delhi will continue.
ALSO READ | Modi Govt hikes wheat MSP to Rs 2,015 per quintal amid ongoing farmers' protest